PDP Accuses Buhari-Led Federal Govt Of Using EFCC To Coerce Members Over To APC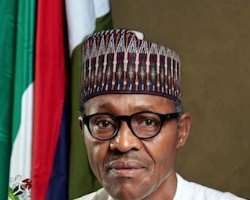 As part of the strategies to cow virile opposition and win unwilling members into its fold, the All Progressives Congress, APC-led government has resorted to invoke and the use of varying instruments of power against prominent Nigerians particularly the members and supporters of the Peoples Democratic Party, PDP.
The chairman of the PDP in Rivers State, Bro Felix Obuah made the shocking revelation through a statement signed by his Special Adviser on Media and Publicity, Jerry Needam.
According to the State PDP boss, having used all other uncivil means to make people believe in their political antics and failed, the APC has now appointed surrogates to search through ministries, departments, parastatals and other agencies of government where PDP members served as public servants, board chairmen and members, consultants and contractors to government with a view to fabricating and framing up charges against them and liaising with the Economic and Financial Crimes Commission (EFCC) and the Army not only to prosecute them but also punish them.
The Acting Managing Director of the Niger Delta Development Commission, NDDC, Ibim Semenitari is currently acting out this script at NDDC.
Such framed up PDP members, Bro Obuah noted, are given only the option of declaring their support and loyalty to the APC and for the active politicians to decamp openly to the APC or be roped in and drilled by the EFCC.
This is a new and wicked dimension to the myriad of undemocratic methods being introduced and deployed by the APC to silence the PDP systematically, the State PDP chairman regretted.
He however cautioned against this barbaric antics that has more than any other thing dwarfed the tall promises of President Muhammadu Buhari during his presidential campaigns especially his acclaimed anti-corruption crusade, which is now targeted at only PDP members while corrupt APC members are exalted with juicy positions.
Bro. Obuah said as the APC failed in all its efforts to take by violence in all other States it had plotted to grab undeservedly, so it will fail in this delicate plot.
He re-assured the teeming supporters and members of the PDP in the State not to be intimidated and, cowed into cowardly submission, stressing that the party will resist every attempt notwithstanding where it's coming from or who is involved to impinge on its rights or those of its members to abandon what rightly belongs to them, the People's mandate, or frightened away from a noble cause to trade with fraudsters and shenanigans on the people's misfortune to ride to power.