Public Display: Dele Momodu shows off assets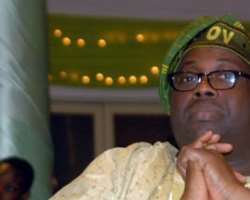 Many celebrities are fond of displaying their latest acquisitions on social networks. In general, they update fans about their assets, whereabouts and lots more.
Well many of us cannot do without mobile phone in running our day-to-day activities, and some of us have within the range of two to three phones with different mobile network.
some days ago, Ovation Boss, Dele Momodu decided to let his fans into his day to day activities as he posted a picture of his mobile phones which amounted to eight .
It's funny to see such in this century where we have lots of phones with dual Sims, all I just keep imagining is, when the eight phones rings at a stretch how would he pick them ? Does he have a P.A that carries these mobile phones around? Alternatively, he could be into import and export of mobile phones that he is yet to disclose to fans.