Hillary Clinton In The Foretold Prophecy Of A Nigerian Prophet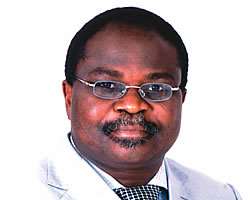 When a Nigerian Man of God, Prophet Perez Oluyemi in what he called 'Prophetic Bombshell' in 2011 made some powerful predictions about the future of United States of America; many were skeptical about the prophecies coming to pass. Even those who have been following his previous predictions which had come to pass somehow became doubtful.
In the 2011 'Prophetic Bombshell' of the Nigerian Nostradamus; he opposed Harold Camping prediction of the world coming to an end and also predicted that President Barack Obama would win his second term in 2012. He also predicted that the global economic meltdown would last for seven years and that by 2015 the economy of America would rise.
However, in that 2011 'Prophetic Bombshell', there was a prophecy which many did not approve. The prophecy regarding the coming of Hillary Clinton in 2016 to them was like a 'Prophetic Gaffe' from the Man whose many predictions have come to pass.
While speaking to journalists in 2011about the 'Prophetic Bombshell', the Man of God said: "God spoke to me that the global economic meltdown will last for seven years and it has only being for three years now. So, by 2015, global economic meltdown naturally will go and the economy of America will shoot-up from 2015. And to tell you, God has revealed to me that a woman will lead the way for America's prosperity to be achieved. He gave a word from the Book of Jeremiah and the Book of Genesis: "That a woman shall be a covering of a man in the last day". And he said through the seed of a woman shall the head of a serpent be crushed. And what does that mean? It said this particular economic meltdown that we are taking about would be crushed through the policy of a woman. And I began to pray; he said watch out for these two women: Hillary Clinton and Sarah Palin. And I asked God that Hillary Clinton must have aged by then and he said to me: Don't think about age! If she sustains her passion and prays very hard, she would win in 2016 after the second term of Obama. The grace of God is working to favour a woman as U.S President in 2016."
On April 12, 2015, Hillary Clinton's presidential ambition was announced via a YouTube video. The wife of former President Bill Clinton , Hillary Clinton was the United States Senator from New York prior to serving as Secretary of State under President Barack Obama , an office she held from 2009 until 2013.
She was a candidate in the 2008Democratic primaries and her candidacy in the 2016 election is her second bid for the presidency.
Clinton would be recalled announced her first decision to run for the 2008 presidentialelection on January 20, 2007. Early in the race, she was considered the frontrunner for the Democratic Party , and actively sought her party's nomination. Clinton ran ahead in the polls , until Illinois Senator Barack Obama began pulling ahead following the South Carolinaprimary .
In the prolonged primary battle that ensued, during which she received more than 18 million votes, Clinton lost the nomination to Obama. Obama won the general election against Arizona Republican Senator John McCain on November 4, 2008.
As all seems set for the United States of America presidential primaries; Hillary Clinton who has appeared in the foretold prophecy of Nigerian Nostradamus, will not only showcase her intimidating credentials but also having a good chance of succeeding President Barack Obama.
Disclaimer:

"The views/contents expressed in this article are the sole responsibility of the author(s) and do not necessarily reflect those of The Nigerian Voice. The Nigerian Voice will not be responsible or liable for any inaccurate or incorrect statements contained in this article."