I bought the arms being used by Buhari to fight Boko Haram: Jonathan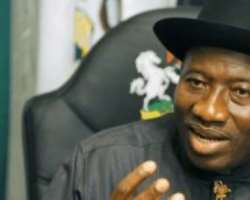 Former President Goodluck Jonathan has said the military equipment purchased during his administration is still being used to prosecute the terror war by the President Muhammadu Buhari administration.
Jonathan, who has been the butt of much criticisms especially with unfolding cases of corruption under his watch,   said he is  proud of the foundation he laid for the present progress the Nigerian Army is recording against the Boko Haram sect.
According to Jonathan,  no new equipment has been bought since he left office.
Jonathan spoke on Wednesday  in an international news and current affairs television channel based in Paris, France 24.
According to a report by The Punch, the former president was asked to speak specifically on whether he was sure his administration laid the groundwork for the recent breakthroughs recorded by the military, to which he replied: "Of course, you know the new government is working hard and I believe they are still using the equipment we procured.
"The 2016 budget is still being debated and no new equipment has been bought.
"So, even what the new government is still using to prosecute the war is the equipment we procured.
"I believe that with what we left behind and the new ones they would acquire, this issue of Boko Haram will be taken to a logical conclusion."
Just like when he spoke in Geneva, Switserland  the same day, Jonathan declined to comment on the changes evolved by the President Muhammadu Buhari administration, saying it was not proper to make any comment.
On the leadership crisis rocking the Peoples Democratic Party, the Ijaw-born politician said it was a normal phenomenon and that the party would soon overcome it.
The reports added that Jonathan also declined to make comments on the fall of the naira and other economic challenges the country is battling.
When asked if  he felt any sense of responsibility for any misdeed done during his tenure, Jonathan said: "Please, please, I have said that I will not comment on these areas because they are sensitive areas and I wouldn't want to create problems for my country.
"I cannot comment on what is happening now.
"It is not proper for a former president to be commenting, either positive or negative.
"The PDP will definitely have some minor issues but that is expected because we were in power for 16 years and when we lost the presidency, we began to have some kind of leadership problems.
"Everybody looks up to the president but when you are no longer the president, it becomes difficult for the party to have a very strong leadership.
"But I believe that whatever the PDP is going through will be sorted out.
"Elders and leaders of the party have been meeting and all these perceived disagreement will soon be sorted out.
"The party will bounce back."