Senate Pledges To Assist NDDC Recover Funds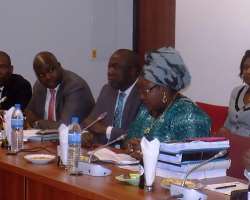 The Senate of the Federal Republic of Nigeria will do what is necessary to assist the Niger Delta Development Commission, NDDC, recover all monies owed the interventionist agency.
Chairman Senate Committee on Niger Delta, Senator Peter Nwaoboshi, made the commitment on Tuesday during a meeting at the Committee Room between his committee and management of the Commission which was led by Ag. Managing Director, Mrs. Ibim Semenitari.
Senator Nwaoboshi, who remarked that proper funding would help NDDC adequately address the sustainable development of the Niger Delta region, said the challenge of developing the region was enormous and that all relevant contributors to the NDDC must play their roles diligently.
"The Senate Committee on Niger Delta, in discharging its oversight functions, will ensure that every contributor to NDDC pays what they owe the Commission, because we cannot afford to toy with the development of that very important region. We owe it to the country to make sure we improve the living conditions of the people of the region," he added.
Nwaoboshi said that the committee was ready to do all it takes, including amending necessary laws, where necessary, to ensure full compliance by agencies statutorily obligated to contribute funds to the Commission.
"It's important that NDDC gets all that is due it from the Ecological Fund, for instance," he said, pledging to do all that was necessary to resolve the impasse over the non-payment by gas processing companies to the NDDC fund.
Senator Nwaoboshi also declared that the budget of the oil companies should be made public so that the Commission is fully aware of how much is due it, to avoid incidents of shortfall in remittances.
While presenting the status report of the Commission, Semenitari had informed the Senate Committee that NDDC had yet to receive contributions from the Ecological Fund since inception in 2001.
Signed:
Chijioke Amu-Nnadi
Head, Corporate Affairs
Tuesday, January 26, 2016