APC is broke –Oyegun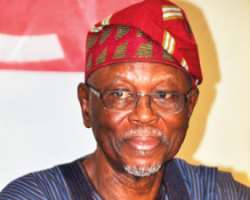 National Chairman of the All Progressives Congress (APC),  Chief John Odigie-Oyegun, has said the party is suffering from 'strains of funding,' but it does not intend to bother President Muhammadu Buhari as raising funds for the party is not part of his national assignment.
Oyegun, who stated this at an interactive session with newsmen at the APC headquarters in Abuja, said the party was working to raise funds within itself.
'The party is suffering from  the strains of funding.
'We are working to raise resources within the membership. We have not asked for rescue from the president because it is not part of his national assignment,' he said.
Oyegun also commented on the general state of the nation, lamenting that the present government inherited a prostrate economy.
'Buhari inherited a collapsed economy. What we are doing is to clear the debris. There will be plenty of good news in the next few months. We have to put up with the present deprivation. But, we will smile tomorrow,' he said.
Speaking on the anti-corruption campaign of the Buhari administration, the APC national chairman said government was not selective in its fight, but, added that the probe of the immediate past PDP administration was necessary because the erstwhile ruling party held Nigeria down for 16 years.
'We are investigating yesterday. Let tomorrow investigate us,' he added.
Also, Oyegun pleaded with Nigerians to exercise little patience with the party, assuring that the current hardship experienced by Nigerians will soon be over in few months.
The APC boss admitted that the party was equally feeling the pains and agonies many Nigerians are currently passing through, even as he attributed the hardship to the misrule of the opposition party in the last 16 years.
'Let me start by saying that our party, the APC is very much aware of the hardship Nigerians are going through. It is as a result of the 16 years misrule the PDP government has plunged this country.
'Apart from the party, I must also say that one of the main concerns of Mr President is that he is fully conscious and aware of the tough times people are going through. I want to give you the assurance to pass to the people that everything is done to stabilise the economy and ameliorate the sufferings and deprivations that people are going through.'
'I want to think that many Nigerians understand why things are the way they are today. The Buhari administration inherited a prostrate economy. Nobody envisaged that there would be near total collapse of the price of crude oil.
'When you juxtapose that with our consumption habits where we intend to import virtually everything from toothpicks to the choicest Champagne products, all of these put pressure on the foreign exchange stock of the nation which as a result has given rise to lots of the issues that Mr President is dealing with today…'