Nigerian government living in denial over Naira valuation —Rewane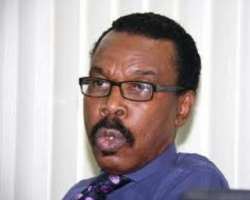 The Chief Executive Officer, Financial Derivatives Company Limited, Mr. Bismarck Rewane, has described the naira as being misaligned, saying Ghana and South Africa had already moved closer to equilibrium.
Rewane, who was quoted by Bloomberg as stating this, said, 'The concerns are that the currency is under pressure, that the currency is misaligned.
'Ghana and South Africa have already moved closer to equilibrium. Nigeria has not really accepted that the currency price is in disequilibrium.'
The Bank of Ghana on Monday kept its benchmark interest rate unchanged at 26 per cent, in line with the forecasts of seven of the 10 economists surveyed by Bloomberg. Kenya's central bank also opted last week to extend the pause in its interest-rate cycle by leaving the policy rate at 11.5 per cent.
In Nigeria, pressure is mounting on the Governor of the Central Bank of Nigeria, Mr. Godwin Emefiele, to devalue the naira and ease foreign-currency controls that are said to be hurting businesses and worsening the outlook for growth in the country.
The CBN's Monetary Policy Committee, which started its first meeting of the year on Monday, will announce the outcome of the meeting on Tuesday (today).
He surprised market analysts at the last MPC meeting in November by cutting the benchmark rate by two percentage points to 11 per cent and snubbing calls to weaken the currency.
All but one of the 22 economists surveyed by Bloomberg predicted that Emefiele will leave the key rate unchanged on Tuesday, with some predicting an adjustment to the naira rate.
While the CBN has virtually fixed the naira at 197-199 per dollar since March, South Africa's rand has plunged about 29 per cent and Ghana's cedi is down almost eight per cent in the same period. The National Bank of Angola, which is set to hold an MPC meeting on January 29, has gradually devalued the kwanza since last year as revenue plunged in sub-Saharan Africa's biggest oil producer after Nigeria.
While a record-low rand may force South African policy makers to take more aggressive action, Nigeria is set to stick to its looser policy, according to analysts surveyed by Bloomberg. Agency report