Mercy Aigbe, Temitayo Gentry Take Turns to Hug Their Husband at Event(Photos)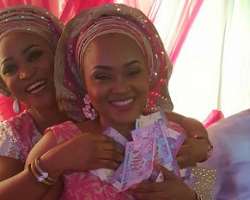 Could there be true affection between Nollywood actress Mercy Aigbe and her husband's First wife, Temitayo Lewis-Gentry? This could be the questions going through the minds of some fans as the duo were spotted together.
The two wives met at an event recently and even took photographs together along with the only daughter of Temitayo, as Mercy wished that she gets married soon so they can pick Aso Ebi also.
Mr Gentry has always been on the silent side and anytime he plans to step out with his wives, he is mostly seen with Mercy than his first wife.
Mercy and Temitayo look so lovely as they took turns to pose with their husband who was very busy at the event.