Fatai Ajidagba: A Grassroots Leader With Unbeatable Records In Ifelodun LCDA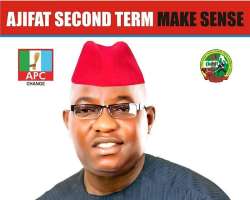 For those who alleged that Hon.Shuaib Fatai Ajidagba, the immediate past Ifelodun LCDA chairman instigated some nefarious boys to cause mayhem in the community got it wrong by not doing proper political investigations before throwing vituperations on him. Having watched the video clip that was alleged that Hon Fatai Ajidagba sponsored some notorious boys to cause unrest in Ifelodun,I discovered that, he met well for Ifeloduners only some elements took advantage of denting the image of the former council chairman against his second term bid.
If the political history of Ifelodun LCDA must be re-written, Hon.Fatai Ajidagba must be included in the sense that his exemplary leadership cannot be altered. The Kwara-born philanthropist cum caring medical professional who marked his birthday bash alongside with his orange wife, Hon.Falilat Ajidagba cannot hide his political feelings on some grassroots feelers who never cared to investigate on the said alleged sponsoring of area boys in Ifelodun.
Today,Ifelodun LCDA has become one of the sought after local governments whose infrastructural developments are centre of attractions through the peoples chairman,Hon Fatai Ajidagba in Lagos State. Ifelodun LCDA used to be a criminal zone and one of the dirtiest that many non-residents assumed that only poor people reside there until Ajidagba used his political influence to correct that unimaginative impression. Those who allegedly claimed that Ajidagba was the brain behind area boys missed the point than seeing a man that brought succor to the community.
For the past 7 years I have knew Hon.Fatai Ajidagba,he does not speak with both sides of the coin than making himself available to the people represented as the then council chairman . His political records of first tenure is enough to win his second term ambition if all the party faithful could see his past achievements than weaknesses in the council.
Again, Hon.Fatai Ajidgaba building his own abode in Ifelodun LCDA should be welcomed than making unnecessary statements to cause political chaos in the community. Mindset Media Limited is one grassroots media that has not only built integrity but also following the antecedents of some Ajeromi-Ifelodun politicians in recent times.
Hon.Ajidagba has created political history in Ifelodun LCDA which other APC contestants should be ready to give up their ambition for a man who has won the heart of the people over the years. In terms of health and humanitarian services, Ajifat has made a mark and continues to see other people problems as his own. In patriotism, commitment, accountability, creativity and social inputs, Ajifat is equal to such political task.
Finally, Hon.Fatai Ajidagba remains one of the most reliable and trusted chairman aspirant that has glowing pedigrees and legacies that cannot swept under the political carpet of Ifelodun politics.
Godday Odidi
Social Media Analyst
08058124798
Lagos
Disclaimer:

"The views/contents expressed in this article are the sole responsibility of the author(s) and do not necessarily reflect those of The Nigerian Voice. The Nigerian Voice will not be responsible or liable for any inaccurate or incorrect statements contained in this article."
Articles by Godday Odidi