Osoba seeks APC forgiveness, reconciliation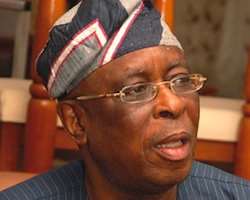 Leader of the Social Democratic Party and former Governor of Ogun State, Chief Olusegun Osoba, has said he has yet to return to the All Progressives Party.
He, however, said talks are ongoing to ensure his reconciliation with the APC.
Osoba defected from the APC in the build up to the 2015 general elections and co-founded the SDP.
The former APC chieftain spoke against the background of his current noticeable hobnobbing with chieftains of the ruling party.
Osoba on Saturday told our correspondent on the telephone that talks were in top gear between him and the top echelon of the APC on what he called 'an amicable reconciliation.'
When asked if he had returned to the APC, Osoba replied, 'No, no. But there is an ongoing discussion between us but there is no final decision yet. I believe that the good cause of the Yoruba and the nation will give us the grace to come to an amicable reconciliation.'
The ex-governor told our correspondent that the split between him and the other progressives prior to the 2015 general election was nothing personal.
He said the issues which led to his departure from the APC were being discussed and addressed in the ongoing talks.
Osoba noted that he had been a progressive and remained one; which was why he had not crossed to the conservatives.
He said, 'They (his grievances) are part of what we are discussing. We are discussing the implementation of our constitution. It has been a major issue and we are discussing it.
'There was nothing personal about the whole thing. There was nothing personal amongst us. It was only issues affecting progressivism. I am still a progressive; that is why I won't go to the conservative rank under any circumstance.'
The SDP chieftain, however, declined comments on the N100m allegedly given to the National Chairman of the SDP, Chief Olu Falae, by a former Chairman of the Board of Trustees of the Peoples Democratic Party, Chief Tony Anenih, which was alleged to be part of the $2.1bn arms procurement fund diverted by former National Security Adviser, Col. Sambo Dasuki, (retd.).
On what will be the fate of the SDP should his current talks with the APC become successful, Osoba said, 'The SDP remains, because the party has elective members at all levels of legislation in the country. There are state assembly members and members of the House of Representatives.
'Virtually by law, the SDP remains a party. The Independent National Electoral Commission cannot deregister the SDP. But I don't want to comment further on that.'
The ex-Ogun governor debunked insinuations that his supposed return to the APC fold was in preparation for the 2019 general election, saying it was too early to make such prediction and move.
He said, 'The government is less than one year old and none of us is God. One must not predict tomorrow not to talk of predicting 2019.' Punch