Biafra: Kanu pleads not guilty to treason charges, returns to prison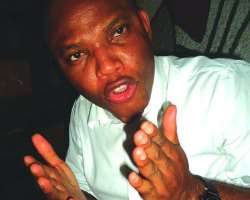 The leader of the Indigenous People of Biafra and founder of Radio Biafra, Nnamdi Kanu, whose arrest sparked a wave of protests by supporters in Nigeria's southeast, pleaded not guilty in court on Wednesday on treason charges.
Nnamdi Kanu last month refused to enter a plea when he was first charged with 'treasonable felony', arguing he had no confidence in the then trial judge.
But at a hearing before a new judge in the federal high court in Abuja on Wednesday, he denied a six-count indictment and was remanded in custody until a bail application on January 25.
Subsequently, the judge has ordered that the custody of Kanu, be relinquished by the Department of State Services.
The presiding judge, Justice James Tsoho during the hearing ordered that Nnamdi Kanu be taken to prison instead of being kept in custody of the DSS overruling the request by the Director of Public Prosecutions, Mr. Mohammed Diri, for the continued incarceration of Kanu by the DSS.
Kanu has been in the custody of the DSS since October 14, 2015 when he was arrested by agents of the Department. Kanu's defence team led by Chuks Mouoma (SAN)‎, had complained that the DSS denied the accused access to his family members and lawyers. Kanu was arraigned alongside Benjamin Madubugwu and David Nwawuisi.
At the Wednesday hearing, the prosecution alleges Kanu and others at large in Britain between 2014 and last year called for some southern states to secede from Nigeria to form an independent Republic of Biafra.
The call was made on Radio Biafra, of which Kanu is director, and was done 'with (the) intention to levy war against Nigeria', according to the charge sheet. He was also charged with managing an unlawful society, unlawful possession of firearms and concealing an import of a radio transmitter. Kanu, who also heads the Indigenous People of Biafra (IPOB) group, was arrested by the Department of State Services, DSS, in October when he arrived in the country from London, where the radio station is based.
He has emerged as the new face of the campaign for a separate Biafran state, nearly 50 years after a previous unilateral declaration of independence sparked a brutal civil war. The conflict from 1967 to 1970 left some one million people dead, many from starvation and disease, as Nigerian troops blockaded the fledgling Republic of Biafra.
IPOB supporters have held a series of protests across the country in recent months to demand his release and voice their calls for a breakaway state for the southeastern Igbo people. On December 17, IPOB said five campaigners were killed during celebrations after the high court in Abuja ordered Kanu's release on bail.  The authorities in Abuja, however, have refused to release him, leading to fresh protests.