Buhari budgets N3.9bn to renovate Aso Villa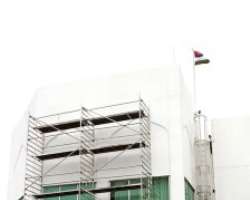 Senator Enyinnaya Abaribe (PDP Abia South) on Wednesday in Abuja, revealed that N3.9billion was allocated for the renovation of Aso Villa, (the office and residence of the Nigerian President) in the 2016 budget presented to the National Assembly by President Muhammadu Buhari.
Abaribe who faulted the large sum earmarked for renovations alone said: 'They are going to renovate the Villa with N3.9 billion, what else do you want to renovate there that Nigerians will see in the Year 2016?' he asked.
'It also increased the spending that is due to renovations within the Villa,' he added.
He said that the adjustments rather than reduce spending in areas where they were not necessary only spread it into different offices.
'We were told that in the revised budget there was an adjustment due to error, we agree but what has happened is that up to N7 billion were moved from buying vehicles and spread to offices.
He went on to also point out that domestic spending in the villa has increased. Addressing the senate, he said: 'Mr President, a budget that moves domestic spending within Aso Villa from N580 million to N1.7 billion cannot be a budget of change,' he said.
Abaribe while making contributions during the consideration of the budget, said the proposal was faulty on many grounds and could not be implemented at it was. - The News.