Governor Ugwuanyi urges World Bank to increase support for Agric projects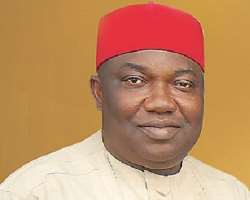 Governor Ifeanyi Ugwuanyi of Enugu state has appealed to the World Bank to complete the rehabilitation of irrigation system at Adani, Uzo-Uwani local government area of the state under the FADAMA III project to enhance dry season rice farming for economic benefits.
The governor who was represented by his deputy, Hon Mrs. CeciliaEzeilo made the appeal when the bank and the Federal Government teamon supervision of FADAMA III project in the state paid him a courtesy call at the Government House, Enugu.
Governor Ugwuanyi, while expressing the readiness of his administration to continue to partner the World Bank and other related agencies, noted that Enugu State as an agrarian state with vast arable land is fit for various type of agricultural produce.
'The World Bank partnering with Enugu State in agriculture is a welcome development more so when we are among the few states to beconsidered for additional financing of the FADAMA III project," he said.
He said that the state remains committed in its efforts towards thesuccessful realization of the project through provision of enablingenvironment, consistent payment of state counterpart contributions andreplication of same at the local government level.
Earlier in an address, the leader of the team Mr. Obadiah Tohomdet, a senior communication specialist of World Bank, informed the governorthat the members were in the state to supervise FADAMA III additional financing projects in the state.
He expressed happiness that the projects in the state are successful 'so far they are doing things right', he said.
He commended Governor Ugwuanyi for the support he has been giving theproject in the state, adding that the governor is pro-agriculture anda global supporter of the sector.
He added that farmers in the state are committed to agriculture andare benefiting immensely from it.
He also expressed happiness that the state has vast land for riceproduction at Oduma and that farmers in the project are innovative intheir farming.
He added that they inter-plant okro with rice whichgave them additional fund and reduce poverty.
He appealed to the governor to cause the counterpart fund of the statewhich was approved to be released.
Mr. Tohomdet also requested thegovernor to appeal to local government authorities in the state to paytheir counterpart funds to enable them benefit from the project.