World Bank Rethinking Approach to Remain in Tune with Fast-Changing Africa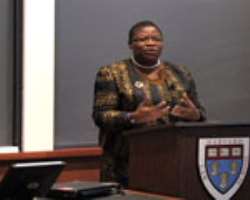 World Bank Vice President for Africa Obiageli Ezekwesili speaking at the Harvard University African Law and Development Conference, April 17, 2010.
Africa has the potential as a global economic growth pole
African governments, not donors, are leading the continent's economic revolution
Recapitalizing IBRD and a Robust Replenishment of IDA will boost Africa's growth
BOSTON, April 20, 2010—The changes in Africa over the past few years—steady growth, rise of civil society and democracy, and a stronger private sector—have led the World Bank to rethink its approach to development on the continent. While many challenges remain and poverty is a continuing issue, the progress of this decade has been so significant that the "old" ways of doing business no longer apply.
As World Bank President Robert B. Zoellick noted in a speech last week to the Woodrow Wilson Center for International Scholars in Washington DC, 2009 saw the end of what was known as the "Third World" and the beginning of a new, fast-evolving, multi-polar world economy. In this new economy, Africa no longer needs to be left behind.
Erasing the Notion of a Third World
"Africa has over the past decade, changed dramatically and has risen in importance as a potential global economic growth pole," World Bank Vice President for the African Region Obiageli Ezekwesili said April 17 in an address delivered in Boston, Mass., at the annual Harvard University African Law and Development Conference. "We at the World Bank therefore recognize that the relation cannot be only one of donor and aid recipient. Africa seeks partners—not patrons—who will work with rather than for the continent," she said.
That dialogue on Bank reforms and enhanced partnership with the continent will be stepped up this weekend (April 24-25) in Washington, DC, when finance ministers, central bank governors and civil society activists from around the globe convene for the World Bank-International Monetary Fund 2010 Spring Meetings.
As Ms. Ezekwesili explained, hanging on to an outdated script that emphasizes the Bank's failures of the past overlooks the fact that the Bank's work has also contributed to the sound macroeconomic policies that have made Africa one of the fastest-recovering regions from the global financial crisis.
Africa is expected to post average GDP growth rates of six percent between now and 2015; only second to South Asia, whose average growth rate is expected to be seven percent.
Sticking to the old script, Mrs. Ezekwesili said, also downplays the impact of reforms funded in part by the Bank—such as reform in the telecoms sector—which led to the revolution Africa is witnessing today in the domain of ICTs. Even worse, the old script minimizes the chance that such development success stories will be seen as replicable in other sectors, including agriculture, which holds the promise of an even stronger transformative potential for Africa.
"We have learned from our mistakes and our successes," Ms. Ezekwesili said, reiterating Mr. Zoellick's statement that the Bank no longer views a changing and new world through the prism of the old. The Bank, she said, is not stuck in the stereotypes that want countries classified as of the First World or Third World; as donor nations or aid recipients.
"My staff and I are engaging with African civil society organizations, the private sector and many other development partners. We want to benefit from the advice of visiting African finance ministers and governors of central banks," she told her audience of lawyers, development experts, retired judges and students of law and public policy from the John F. Kennedy School of Government and the Harvard Law School.
Africans Taking the Driver's Seat
Seeking Africa's views and giving Africa a voice on these and other important global development issues, such as climate change and new ways of fostering the most promising short- and mid-term reforms, notably in post-conflict and fragile country settings, are among the Bank's top priorities.
"It's the African governments who are in the driver's seat—not donors or development partners," Ms. Ezekwesili said. "And they are leading the choice, design, implementation and monitoring of development outcomes."
The review of a jointly-owned action plan for a rapidly transforming Africa complements other ongoing reforms at the World Bank. This has led to an increase from 17 percent in 2004 to 40 percent of senior development experts being deployed in 2010 to country offices across Africa. Decision-making for 32 percent of all tasks—up from less than 25 percent three years ago—is now managed by country directors, all of whom are decentralized from Washington, DC, working in offices based on the continent. Perhaps most significantly, the changes have led to the historic allocation of a third seat for Africa on the Bank's Board of Executive Directors.
Recapitalizing IBRD, Replenishing IDA
The Bank's shareholders are expected to make another major decision when finance ministers meet in Washington, DC, this weekend. They are due to decide on a request—the first in 20 years—to recapitalize the International Bank for Reconstruction and Development (IBRD). Pending confirmation, the capital increase being suggested would raise an additional US$3.5 billion of paid-in capital.
"It is crucial for Africa that this recapitalization is successful," Ms. Ezekwesili told Conference participants. IBRD, she explained, is an important source of funding for the International Development Association (IDA), the concessional window of the Bank that provides grants and interest-free credits to low-income countries; the majority of them in Africa.
"Our estimates are that US$2 billion in IBRD resources in support of enclave operations (i.e. projects with a revenue generating potential in developing countries) could bring about an additional US$25 billion worth of critical infrastructure and natural resource investments in those countries," she said.
Citing the most recent figures from Organization for Economic Cooperation and Development (OECD), which show that development assistance from the 23 richest countries rose by 0.7 percent to US$119.6 billion in 2009, of which a mere US$11 billion went to Africa (far short of the US$25 billion pledged at the G8 Summit in Gleneagles), the World Bank Vice President stressed the need in the months ahead for rich countries to reach deep into their wallets to ensure a robust replenishment of the 16th round of IDA, also known as IDA-16.
Resources pledged under IDA-16 would fund development programs over the period July 2011 to June 2014 and could significantly—if provided in substantial amounts and invested in an effective, results-focused manner—accelerate progress in achieving the Millennium Development Goals during three of the last four years before the 2015 deadline.
Demand for a significantly higher IDA-16 is clear. By end-June 2009, the Bank's Africa Region had disbursed IDA funds ahead of schedule in 20 out of 33 African countries, where it had also cut the average project preparation time by some 40 percent in the four years ending in June 2009; the largest improvement across any region in the Bank.
A recapitalized IBRD—increasingly accessible to a growing group of middle-income African countries—and a robust IDA would help bolster growth in Africa, and further help the continent to benefit from the same kinds of things that reconstructing Europe and Japan needed after World War II: infrastructure, energy, integrated markets linked to a global economy, and improved conditions for growing wealth, a middle class, and jobs through a vibrant private sector.
The Bank's private sector arm, the International Finance Corporation (IFC), is helping catalyze Africa's business revolution. A new IFC equity has attracted US$800 million from sovereign wealth and pension funds to invest in companies in Africa, Latin America and the Caribbean.