Pro-Biafra protesters shut Asaba for Kanu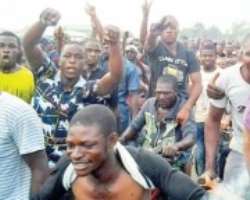 Indigenous People of Biafra (IPOB) protesters stormed major streets of Asaba, Delta State on Monday in a peaceful march against the continued detention of the Director of Radio Biafra, Mr. Nnamdi Kanu.
The placard-carrying protesters, who also bore various Biafra insignia, insisted they would remain in the streets until Kanu is released from the custody of security agencies.
As expected the protest reportedly paralysed socio-economic activities in the metropolis, causing traffic gridlock on the ever busy Nnebisi Road.
The protest in the eye of one of the IPOB sympathizer is mainly a peaceful one,
"This is a peaceful protest for the release of our leader from prison. We will continue to remain on the streets until he is freed. This protest is happening in Asaba alone by members of IPOB,".