Biafra: 8 IPOB members killed, 30 wounded, 26 arrested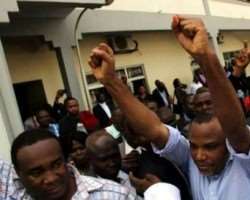 It was another bloody day, Monday, in Aba as eight members of the the Indigenous People of Biafra, IPOB, were allegedly shot dead by the military during their peaceful protest over the continued detention of their leader, Nnamdi Kanu, according to the spokesman of IPOB, Emma Powerful .
The Director of Radio Biafra, Mr Kanu was billed to appear at the Federal High Court Abuja, on Monday, but for the absence of the trial judge did not materialize.
The adjournment came as a shock to IPOB members, who gathered at the court premises and its environs early Monday morning waiting to see their leader, but were sadly shocked when it was announced that the case had been postponed indefinitely.
No formal communication was made to the lawyers of the detained Biafran activist and no reason was given as to why the judge was absent from the court.