Pamoto By Shoggy Tosh Featuring Henrisoul Directed By Femi Best Touch Wins Best Video In Hollywood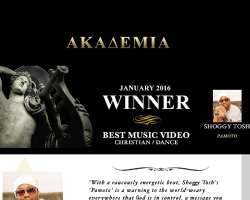 Pamoto by Shoggy Tosh featuring Henrisoul directed by Femi Best Touch just won its 4th award and first in 2016 at the Akademia awards, Hollywood, Los Angeles. USA.
London based Gospel Rapper Shoggy Tosh has now totaled 5 awards in 2 years alone on his unreleased EP 'emujow'. He has released 2 singles so far from the EP, 'emujow' and 'Pamoto'. [emujow by Shoggy Tosh feat Shady Blue & Dunamis Reignz won the 2015 PGMA London's Best Contemporary song]
Pamoto featuring Henrisoul won the Best Music Video in the Christian / Dance category.
Shoggy Tosh's latest award and first in 2016 was determined by a general voting process held by an expert panel of six judges, all former senior executives and industry veterans from some of the largest record companies, and the panel gave this official statement on 'Pamoto':
'With a raucously energectic beat, Shoggy Tosh's 'Pamoto' is a warning to the world-weary everywhere that God is in control, a message you can't help but want to dance to; check outthe aerial photography on this one'
Pamoto by SHOGGY TOSH ft HENRISOUL is the second single from Shoggy Tosh's EP, 'emujow'. The song was written and composed by Shoggy Tosh & Henrisoul, and produced and mixed by Pastorchild. Pamoto was mastered in the USA by Izzy.
'Pamoto', which means an addictive dance dedicated to the Creator of mankind, has racked up close to 170,000 downloads in 6 weeks on My Not Just Ok and is the Number 1 most downloaded Gospel song on the platform in 2015.
The song was released officially on 10 October, 2015, and the music video directed by Femi Best Touch was released on 6 December, 2015. See Video link: https://www.youtube.com/watch?v=UeOhTaiAuks
Shoggy Tosh recently won at the December 2015 Akademia awards - Best Contemporary Christian song, 2015 PGMA London awards in the Rap & Hip-Hop artist of the year category, and at the 2015 Gathering Of Africa's Best awards, London for positively contributing to Africa's image through music and entertainment.
Pamoto was also Number 1 on the ITV 92.3FM Benin City Radio's Top 10 Gospel chart, for 7 consecutive weeks (week ending 20 December 2015) in the running.
Shoggy Tosh's 'emujow EP' is a charitable project dedicated to raising funds for less privileged people all around the world, donations can be made by visiting http://www.toshshoggy.com.
Lovers of good music can download the song free of charge via https://bit.ly/Pamotosong and the Ringtone via https://bit.ly/Pamotoringtone1stverse.
SOCIAL NETWORKS
SONG - twitter: @Pamoto_ & instagram: @Pamoto_
ARTIST - twitter: @ShoggyTosh & instagram: @ShoggyTosh
FEATURED ARTIST - twitter: @Henrisoul & instagram: @Henrisoul