Oshiomhole urges FG to pardon 66 convicted soldiers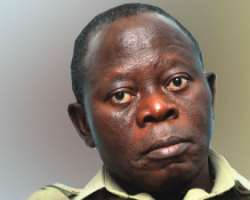 Edo State Governor, Adams Oshiomhole, on Friday appealed to President Muhammadu Buhari to pardon the 66 soldiers whose death sentence were recently commuted to 10 years imprisonment by the Nigerian Army for mutiny and other related offences.
Oshiomhole, who made the appeal at the 2016 Armed Forces Remembrance Day in Benin, noted that based on the strength of recent revelations on the $2.1bn funds for arms purchase, which was allegedly mismanaged by the last administration, the President should spare the soldiers in the spirit of the commemoration.
He, however, said the affected military personnel could dismiss them from service for their acts of indiscipline.
The governor, who acknowledged the role of the Armed Forces in ensuring peace and the unity of the nation, explained that it would amount to injustice if the soldiers who were sent to the war front without arms were made to suffer in prison while those who diverted the funds meant for arms purchase were being granted bail by the law courts.
He said, 'I ask Edo State people to stand by our Armed Forces to support the efforts of President Muhammadu Buhari to reposition the Armed Forces, to re-kit them but also to revive our economy. The revelation about diversion of funds meant to equip the Armed Forces is not funny.
'And we must all give the President the support he needs to bring to justice those who diverted money meant to secure all of us and convert them to political funds.
'These same people sat in the comfort of their offices, looking at their loot and they had the gut to put on trial soldiers who were ill-equipped and were asked to go and commit suicide in the face of Boko Haram insurgency. I am happy that the military have in their wisdom, through their own judicial process, committed those death sentences to various terms of imprisonment for those soldiers who were involved.'