Appointment Of Acting CJ: Rivers PDP Chairman, Bro. Felix Obuah Commends Gov Wike's Respect for Rule of Law
....And Congratulates Acting Chief Judge, Hon. Justice Iyayi-Lamikanra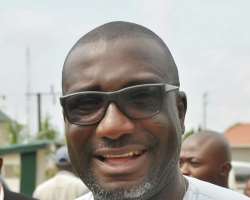 The Chairman, Rivers State chapter of the Peoples Democratic Party, PDP, Bro. Felix Obuah has lauded the indisputable disposition and steadfastness of the Rivers State Governor, Chief Nyesom Wike, in respecting due process and rule of law in governance of the State.
The PDP Chairman notes that the appointment of the Acting Chief Judge of the State, Hon. Justice A. I. Iyayi-Lamikanra, following due retirement of the immediate past substantive Chief Judge, Hon.. Justice Daisy Wotube Okocha, is one among other genuine and demonstrable actions of the Governor in keeping to the relevant provisions of the Constitution of the Federal Republic of Nigeria and the rules and procedures guiding such appointment.
Bro. Obuah believes that Gov Wike's transparency and resoluteness as he assured on assumption of office as Governor of the State on May 29, 2015, has restored justice, respect and smote succession in the Rivers State Judiciary.
He hints that the Governor's action has also prevented undue and avoidable judiciary crisis which was the hallmark of the administration of former Governor, Rotimi Amaechi, expressing confident that Rivers State Courts will no longer be closed, thereby denying citizens and residents of the State access to justice.
"We promised people of the State and indeed all Nigerians a brand new Rivers State, where the three arms of government will function independently and carry out their constitutional Check and Balance functions accordingly.
I am happy that the Governor, Chief Nyesom Wike, has been resolute in keeping to this promise and can assure our people that he will not be distracted or betray the thrust reposed in him as our Governor", Obuah says.
While we congratulate the immediate past Chief Judge of our dear State, Hon. Justice Daisy Okocha, on her uprightness, fulfilled and successful completion of service to the State in that capacity, and retirement from active service, we welcome the incoming Acting Chief Judge, Hon. Justice A. I. Iyayi- Lamikanra, and urge her to continue the good works of her predecessor that would also ensure quick dispensation and efficient administration of justice in the State.
Signed:
Jerry Needam, JP
Special Adviser on Media and Publicity
To the Rivers PDP Chairman, Bro Felix Obuah
Friday, January 15, 2015