Liberia declared Ebola-free, signalling end to West African epidemic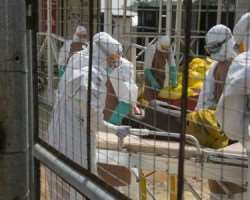 Liberia was declared free of the Ebola virus by global health experts on Thursday, a milestone that signalled an end to an epidemic in West Africa that has killed more than 11,300 people.
But the World Health Organisation (WHO) warned there could still be flare-ups of the disease in the region, which has suffered the world's deadliest outbreak over the past two years, as survivors can carry the virus for many months and could pass it on.
Health specialists cautioned against complacency, saying the world was still underprepared for any future outbreaks of the disease.
Liberia was the last affected country to get the all-clear, with no cases of Ebola for 42 days, twice the length of the virus's "incubation period" – the time elapsed between transmission of the disease and the appearance of symptoms.
"All known chains of transmission have been stopped in West Africa," the WHO, a U.N. agency, said on Thursday.
The other affected countries, Guinea and Sierra Leone, were declared Ebola-free late last year. There were cases in seven other countries including Nigeria, the United States and Spain, but almost all the deaths were in the West African nations.
"It is the first time since the start of the … epidemic in West Africa two years ago that the three hardest-hit countries had zero cases for at least 42 days," said WHO's Liberia representative Alex Gasasira.
The WHO announcement on Thursday is a major step in the fight against a disease that began in the forests of eastern Guinea in December 2013 before spreading to Liberia and Sierra Leone. It overwhelmed medical infrastructure in the region which was ill-equipped to deal with the outbreak, and at its height in late 2014 sparked global fears among the general public.
(Reuters)