Why CBN Shouldn't Give Dangote Forex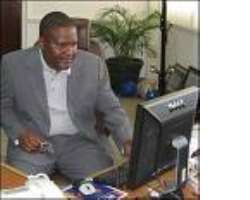 Recently, the Central Bank Governor Godwin Emefiele announced that the apex bank would soon provide Dangote Refinery forex. No other justifications were given than that the CBN would be doing so in order to help fast-track the completion of that refinery. His argument is that the presence of Dangote Refinery when operational should reduce the importation of petroleum products into the country substantially.
I strongly disagree that Emefiele has to become the one deciding which private company operating in the country should be entitled to forex. By mere fact that Mr Emefiele could be the one singling out which private company that should be entitled to forex, I think that knowingly or unknowingly the governor is stepping out of his monetary policymaking space to now be the one to decide on issues relating to promoting and regulating the activities of domestic and foreign investors.
This selective policy if carried out would mean that whoever Mr Emefiele likes or has personal relationship with the governor too should be favoured with the country's forex. In other words, those private business owners who are not Mr Emefiele's friends shouldn't expect forex from the CBN, being their punishment. As unbelievable as it would sound, the truth is that this is now kind of impression by the CBN governor has created in the minds, which is: the disbursement of the country's forex is selectively conducted.
Another message sent out there by the governor (and also as the immediate past managing director of Zenith Bank) is that those who need forex should either romance with Emefiele's CBN, romance with Zenith Bank, or befriend Mr Jim Ovia, the owner of Zenith Bank. We all know that there is no much difference between Mr Dangote's business interests and Mr Ovia's business interests. It is, therefore, possible that with Dangote getting forex from the CBN governor, doing banking with Ovia, means that most of his imports, including possible forex round-tripping through over-invoicing could take place at Zenith Bank.
This is because there is no other plausible explanation why such an unelected governor of our apex bank now assumes the very role of the chief executive officer of Nigeria's economy, a role reserved for the President of the Federal Republic Nigeria.
Given this precedence, do we have to read the CBN Act of 2007 to the governor? I think one of the realities this throws up is the urgent need for strong executive and legislative oversight of the activities of these so-called technocrats whose personal interest promotion is no longer hidden. One thing is certain, should Emefiele think that he has the power to hand whoever he likes the country's scarce forex, then, he should be told that this selective action is not only illegal but undoubtedly fraudulent.
This way, the money goes round the clique, whose exploitation of our economy has no limits; thanks to the fact that their prepaid men and women in charge of our mass media always hide these fraudulent activities being perpetuated by these enemies of Nigeria. Also, thanks to our political and technocratic class who having populated our corridors of power are always determined to push these narrow interests of these barons no matter the high cost to our commonwealth.
It is this kind of de facto power that now calls for the CBN's urgent reform, starting with the repealing of so many sections of the CBN Act of 2007, which took away too many economic and political decisions on the country's lifeblood, money, from the president and unpatriotically handed them to some unelected technocrats simply in the false name of guaranteeing independence to the apex bank.
That past governments, since Obasanjo never renovated the country's four refineries, let alone built new refineries shouldn't be seen as an accident. This was a carefully orchestrated strategy by Obasanjo who was so determined to hand Dangote, his corporate godson, monopolistic control over the country's petroleum downstream, the same way he successfully handed him cement manufacturing monopoly before leaving office.
This explains the very midnight auctioning of the country's four refineries to Dangote by Obasanjo's. In other words, few hours to handing over to his successor Yar'Adua, Obasanjo without any form of transparent process, sold the four refineries to Dangote for such a token sum of $720mn. But, without any time wasted, Yar'Adua, in his sincere patriotism, reversed the questionable privatization of the country's four refineries.
But with President Yar'Adua's sudden demise, Dangote reinvigorated his interest in having the refineries back at all costs. With this goal in mind, Mr Dangote this time around needed not have his moles in Jonathan administration. He along with Mr Femi Otedola—another Obasanjo's corporate godson—made sure he fully planted himself inside the Jonathan administration by being a leading member of that government's so-called economic management team, which, in reality was their carefully constructed project used in controlling all major economic policy decisions of the government. And of course, that was what happened, with Okonjo-Iweala as the finance minister only there promoting Dangote and his group's interests.
So, fully in control of the government, Dangote made sure that no stone is left unturned in blocking the turnaround maintenance of the four refineries. Even proposals to build mega refineries and petrochemicals in the country by some foreign investors, particularly Chinese were blocked thanks to Dangote and his men and women being in full control of the country's corridors of power. Little wonder by late November 2013, the Minister of Petroleum Ms Diezani Madueke, acting as Dangote's crony, announced that the same four refineries once taken away from Dangote would once again be privatized. This was being proposed after billions of public naira was allegedly spent (since it was truly budgeted) by government in the "turnaround maintenance" of the four refineries.
But without any waste of time, in my weekly Punch column titled "As the privatization hammer comes on the refineries" dated December 21, 2013, I alerted the unsuspecting Nigerians to watch out that soon Dangote should be handed the same refineries by Jonathan. My article did the wonder. Soon the presidential spokesman, Reuben Abati, came barking, announcing that there was never a time President Jonathan directed Ms Madueke to sell the refineries and that her announcement of the sale of refineries was being done without approval by the president. On the eve of Christmas 2013—exactly December 24, 2013—the alarm I raised unfortunately earned me a phone call threatening my life.
Having unsuccessfully tried to have the country's refineries sold to him, Mr Dangote decided to build his own Dangote Refinery and Petrochemical, which was announced to be costing him and some foreign partners about $9 billion. From this partnership we were made to understand that the Dangote Refinery and Petrochemical would be ready sometime in 2017. What is surprising now is that the refinery which has so many foreigners partnering with Dangote is now in need of forex.
The questions this raises are obvious. Why is the same Dangote refinery which has received billions of dollars from foreign partners, now demanding that the CBN provides the refinery forex? Does that mean that the forex brought into the country by his partners are no longer sufficient to complete the building of the refinery? If that is the case, why shouldn't Dangote reduce his stake in the company so that more foreigners should take more stakes in the company? Or isn't Dangote better off seeking foreign loans, especially given that export of some of his refinery's products will earn him enough foreign exchange?
If Dangote is not comfortable with these suggestions, my advice is let Dangote source his forex needs for his refinery from his cement factories scattered across Africa, after all, the over $1.5 billion spent in building these cement factories came directly from Nigeria. Or is Mr Dangote saying that the money he is now making from these African cement factories is not forex, which he can now invest in his Nigerian refinery?
What continues to marvel most Nigerians is that all these years, all Mr Dangote has successfully achieved is always taking full advantage of our country's economy, in most cases using his moles at all levels and all tiers of government. While making all these selfish demands on Nigeria, one wonders where are Dangote's corporate social responsibilities, a kind of payback or thank you Nigerians. My personal questions to Dangote are: Where is Dangote University, Dangote Hospital or Dangote Scholarship Program in Northern Nigeria? Or hasn't he made enough money in this country to know it is time to give back to his people since charity begins at home?
Has Dangote ever gone public to show his personal support to our military fighting Boko Haram all these years or to show his sympathy to families of the missing Chibok girls by giving them personal gifts as should be expected of a national and international business tycoon like Dangote? The richest Americans did their best in giving back to America including leaving social landmarks such as some of the world's best universities like MIT, Stanford, and Rockefeller University; some of America's hospitals and health centers; some of the world's best libraries and research laboratories; some of the scholarships that have made rarely gifted children of the poor become America's best scientists, engineers, politicians, and clergies. In his own case the world's first ever recognized richest Nigerian, richest African, and richest black man, what is it that Mr Dangote could proudly point his hands that fellow Nigerians, Africans, and black race should proudly recognize him for?
Rather than thinking how to give back, Mr Dangote is ever more gripped with demanding special forex from government after government in Nigeria.
Enwegbara writes from Abuja.
Disclaimer:

"The views/contents expressed in this article are the sole responsibility of the author(s) and do not necessarily reflect those of The Nigerian Voice. The Nigerian Voice will not be responsible or liable for any inaccurate or incorrect statements contained in this article."