Book Review: The Broken Home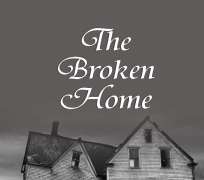 "The Broken Home... A poetic inside story" authored by Chuma Mmeka is a narration with poems by an offspring of a marriage gone awry. A compelling read, the chapbook exposes crumbled relationships; brought to life rebellion in the family and menace to the society; and all hope seems lost".
Chuma is an inspiring new-generation Nigerian poet. He's been writing since he was eight. "The Broken Home" is his first published poetry work. Recently, his poems titled A People's Culture, My Ekpe Dance, and Once Upon A Christmas Day: all culled from The Broken Home were accepted and published in the 'Best "New" African Poets 2015 Anthology' edited by Tendai R. Mwanaka and Prof. Daniel da Purificação, available on Amazon.com.
Published by Adfinity Media Ltd. Oct. 9, 2015, "The Broken Home" (ISBN 978-978-950-097-0) is an interesting true life poetry chapbook that cost me N300 at a Kano bookshop. With a cute black and white cover, the work contains 15 verses spread over 48 pages; each an original poem richly set in simple language. The story is fast paced yet provides a clear insight into the lives of children of broken marriages.
The work revolves around a well-blended theme that touches on aspects of single parenting, a child's yearnings and loneliness, adolescent frustrations and life's regrets. The writer has a unique way with words to impress any teacher or student of literature; and utilizes an impressive array of literary devices to score home his points. Devices used in the work (to mention a few) include:
Imagery (page 25) – "… People and things swept past
As the trees beat the buildings"
Hyperbole (page 46) - "… And the marrying of diverse demons"
Onomatopoeia (page 32) – "…The breeze is singing a merry tune"
Personification (page 23) - "…The skies crackled with willing rain"
Other impressively poetic lines from the book may include:
"…The whirling harmattan air"
"…Weaving gists, made us laugh and glow"
"…The wind is heavy, the sky is humid"
"Then began the dance with the elf:
Those mischievous little fairies
Who graced my lonely parties"
Great work really - for the beauty in the genre and for the story it tells!