#ROAD-TO-EDO 2016 - #EDOFIRST! Matthew Aigbuhuenze Iduoriyekemwen: Towards The Resurrection Of Our Dead Industries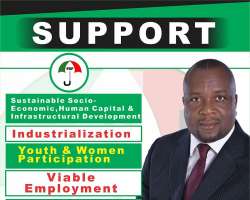 Before now, our dear State, Bendel now Edo State was a beehive of economic and commercial activities; in fact, Bendel was the commercial capital of the then Mid-Western region under the ebulient leadership of Gen. S.O. Ogbemudia who was then Military Administrator. You could see people traveling from far away Eko as Lagos was then called, Onitsha, Aba, Republic of Benin, Niger and the far North to come and engage in one form of business or the other.
In the good old days, Edo contributed immensely to the overall economic development of our Country; state-owned agencies such as Bendel Insurance Company Limited, Edo Pharmaceuticals, Bendel Brewery, Okpila Cement Factory, Water Board, Bendel Line, Ekpoma Rice Farm and a host of other viable industries criss-crossed the length and breadth of our State.
Edo people stayed home to work and serviced their government and State, government was friendly with the people and the people were determined to make it work. Unemployment, crime, cultism, thuggery, brain drain and other societal ills currently bedeviling our State were at their lowest ebb. Yet, this was the period when Internally Generated Revenue (IGR) and government's income was at an all-time low.
One would have thought that successive administrations considering their exposure to contemporary technological, economic and administrative equipments, increase in the sharing of Federal allocation, and accessibility to funds from here and there, should have been able to revitalize our dead industries so as to tap from the huge economic potentials therein; ironically, the realities on the ground suggests a far-cry from what entails in most economic and commercially vibrant Nigerian States that once looked up to Bendel now Edo for soccour. Our industries that once made our dear Edo State the pride of place are now in a sorry state; as, past and present administrations continue to pay lip service to this dilemma.
For me, any one who is fortunate enough to garner Edo peoples' support and solidarity, and becomes the Executive Governor of Edo State, yet refuse to pay adequate attention to the possible revitalization of Edo's ailing industries, was never a Governor. If at the conclusion of an eight year term a Governor and the people of Edo cannot identify one industry that was either built or influenced by your administration, it is as though you were not here.
Paying a visit to these once thriving industries around Benin City particularly, one is amazed at the level of dilapidation, decadence and degradation that stares at you; where some of these supposed state-owned buildings have become safe haven for criminals and lunatics, others have become motor garrages where indicent activities are comfortably perpetrated on a daily basis.
Who will rescue our dear Edo State and her people from the cesspit of underdevelopment, tyranny, oppression and thuggery? Agberoism, thuggery and other kinds of unpalatable professions have become the highest form of employment in our State.
Education is no longer a priority, many parents have lost control over their children, our young beautiful ladies are victims of rape and sexual exploitation, the young male child is forced into hard drugs, cultism and other social vices, the market women at New Benin, Ekiosa, Jetu, Uromi and Oba markets etc, are daily victims of double taxation by APC-empowered tax collectors.
There is an astronomical increase in school fee, where some are forced to drop out, and for the ladies who are determined to acquire a formal education but whose parents are indigent, would have no choice than to "lay their backs", needless to say what becomes of the males; where they cannot merge work with study, all these in the absence of bursary allocation and student work/study programme by the State government as it entails in most other States.
The State Civil Service is bastardized and has become an avenue more of inducements than service delivery, youths who are fortunate to secure government appointments after many years of graduation, are wickedly placed on permanent casual where they eventually become victims of the APC hire-and-fire syndrome.
Our one-time highly revered custodians of our age-long traditional and cultural heritage have become yes-men and partisan politicians of the APC-led administration; there is a systemic erosion of the dignity and pride that once stood out the good people of Edo Land; there is biting hardship in the land and the struggle for survival is TOUGH.
Yet, the APC and its handlers continue to display uncouth insensitvity to these shortfalls; parading itself as the best thing to have happened to Edo State in recent times. Good people of Edo Land, our Great Party the PDP, if we do not unanimously resist and stamp out the APC in the fast approaching #EDO2016 guber poll, the APC will further impoverish our people, hijack our State's developmental structures and convert our collective patrimony and common resources to the personal estate of a select few.
PDP, Edo people, (men, women and youths), there is an urgent need to re-energize the economic potentials inherent in Edo's dead industries; but we must first and foremost resurrect these industries; creating an enabling environment for local and foreign investors to operate and succeed through public-private-partenerships (PPPs), build-operate-and-transfers (BOTs), local-and-foreign-contents (LFCs) engagements, synergizing with the relevant security agencies to ensure a secured and healthy environment for business, our petty traders will be further empowered through the instrumentalities of government's soft or interest-free loans, engaging the Federal government and relevant international agencies to address the Gelegele debacle.
Our young people must go back to school, our retired, aged men and women must enjoy their retirement benefits, our youths must have gainful employments, raise families and own decent homes, Edo workers must invest in housing and own their own homes, and businesses must be supported and encouraged.
These are Matthew Aigbubuenze Iduoriyekemwen's topmost priority when he becomes Executive Governor, Edo State later this year.
We respectfully call on our Great Party the PDP and the generality of Edo people to rise up to the challenge of salvaging what is left of Edo Land and make Edo Great again. To achieve this, the PDP must look beyond her comfort zone, support and nominate a trustworthy, young articulate #MAI; an industrialist par excellence, a quintessential pathfinder, a rare breed within the PDP family, a detribalized, unbiased character, whose contacts stretches beyond the shores of our land and will no doubt be brought to bear in the actualization of the Edo project.
Edo PDP; Listening and attending to the cries of the people.
#SupportMAI2016
#AGreaterEdoisPossiblewithMAI
Courtesy:
Edo First Initiative