Saraki in brief closed door meeting with Buhari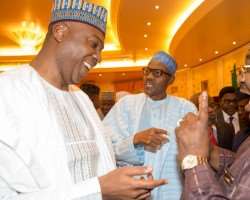 President Muhammadu Buhari and the Senate President, Bukola Saraki,met behind closed-door  at the Presidential Villa, Abuja on Tuesday..
NO clue was given to the media as to the purpose of the meeting. Journalists were left guessing whether or not the   the visit was connected to the alleged missing 2016 budget which has been submitted to the National Assembly.
Attempts made by the State House Correspondents to confirm or refute the missing budget were unproductive as Saraki did not comment when asked.
The meeting lasted only for about 30 minutes with Saraki leaving  Buhari's office about 30 minutes after his arrival.
He refused to speak when confronted by journalists on the allegedly missing 2016 Budget proposal, as just exclaimed  "Ha, ha, ha," and jumped into his vehicle.