How To Escape Buhari's Anti-corruption Strokes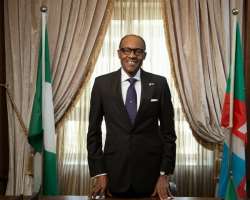 It is known to all and sundry that the main mission of Buhari's government is to combat the Kilimanjaro height of corruption in Nigeria. This is no more news to anybody. Since the emergence of President Buhari, series of past government officials have been arrested due to the public yams diverted to their own personal barns. I personally commend Buhari for this. Only a man, like Buhari, who detest corruption to any length, can take Nigeria to the promise land.
It is an indisputable fact that Jonathan and his men have gone a long way topack monies meant for important and pressing projects to their personal account which is perilous and affecting, till now, the health of the nation. These set of individuals have killed a lot of Nigerians. How? They have used the money meant for security, roads, electricity and general welfare of the nation for their selfish and unbeneficial needs. And many have died of the lack and inefficiency of these amenities. A good example is the Dasuki led 2.1 billion naira diversion; fund meant for procuring arms for, inter alia, rescuing the Chibok girls and combating totally the Islamic terrorist sect, Boko-Haram. With this, no doubt, the Jonathan led government have done more evil than good to Nigeria, especially the northern part.
So, Goodluck Jonathan and his men have been 'killing' our people all these years? They have been 'killing' our soldiers? I can't imagine how man will be so inhuman to his fellow man. Of all the yams in Aso Rock, why can't others be eaten? Why has the focus solely on that of security? Why, tell me? In case you don't know, the bouncers that will flog you are already engaged into press-up in heaven. After spending many years in Kirikiri, may you all go to heaven (?) to receive good strokes of the cane, even before you get His judgment. I can see millions of Nigerians chorusing "Amen" to this answered prayer.
Yes! The purpose of this piece is to get the troubled looters that are yet to be 'called' by EFCC informed about the best way to escaped the wrought of Buhari anti-corruption war. I can see they are disturbed, worried and confused. I can feel the pain, but the question is: who ask them to pilfer? Oh, I pity them! Anyway, just for the 'love' I have for these guys, I will reveal to them the way to run away from being arrested, tried, 'humiliated' or even jailed( cuz most of them will be guilty) by Buhari. I won't collect a dime from you; ofe-ni-igbala.
I know many of you are already running from pillar to post, some are already stricken with impromptu hypertension while many are getting their visa to fly out of the country, with the intention of not returningtill their Christ come. Truly, truly, I say to you; you don't need to delve into all these, just read carefully the steps below and you will come back to thank my God.
The one and only step for you, my dear 'friend', is to decamp to APC. Join Buhari's party. I know this may be too hard for you to do. I know You have promised to ever remain in that your party. You have been a great enemy of the APC. I'm very much aware of the much humiliating comments that will greet you by your friends in APC. Don't mind them, don't be distracted, just follow my step.
I know you will be lost in the wilderness of wonder why I have chosen to you that option. My dearest looter, if you are to escape from this anti-corruption war, just join the APC. I repeat, join the 'Change' team. Believe me, you won't regret. When you are done with that, support any of the party's event or program with part of the yams you stole- no apology for calling you a thief. Or are you not?
I know you are still confused. Okay, take a deep thought about all those that Buhari's government have been arresting since last year, if not only one(Isa Jafaar) of recent. Are they not all member of your party? Good! Take a look at those that you ate the money together and have joined the APC and also sponsored the party, who dare probe them today? Touch not Buhari anointed men!
That is the bitter truth, my brother. Baba Buhari, maybe ignorantly or unintentionally, have been selective in those he's waging the said war at. While many unrepentant members of your partyare been called up by EFCC on daily basis, 90% of those defectors from your party to APC are not even neared by the EFCC, what are you then waiting for in your party? Even, manyrepentantAPCmembers (who embezzled from your party as you do)whose name were mentioned to have share in the Dasukigate have not been arrested or tried.
So, you still want to carry last? Anyway, it is not a must you heed to my advice. If you do, you will definitely escape the strokes but if you do not, you are on your own (OYO). Don't say I didn't advise you.
See the way I'm receiving thousands of 'thank you' message from looters. It is just getting too much. Please, don't thank me, thank the Holy-Spirit. Remember to come for thanksgiving service. Till we meet in church on Sunday, I love you all.
Festus Ogun is a 'lawyer-in-training', socio-political commentator and blogger. He can be interacted with directly on Twitter via @feogun
Disclaimer:

"The views/contents expressed in this article are the sole responsibility of the author(s) and do not necessarily reflect those of The Nigerian Voice. The Nigerian Voice will not be responsible or liable for any inaccurate or incorrect statements contained in this article."