Falana to Buhari: Failure to obey court orders on Dasuki, Kanu is tantamount to impunity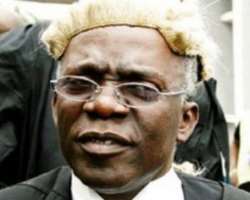 Lagos lawyer Femi Falana (SAN) has asked the Federal Government to obey the court order granting bail to former National Security Adviser (NSA) Col. Sambo Dasuki and leader of the Indigenous People of Biafra (IPOB), Mr. Nnamdi Kanu.
For him, anything short of obeying the orders of the court without any motion in court challenging such order is tantamount to impunity writ large.
The Lagos lawyer, in a statement entitled: "The orders for the bail of Dasuki and Kanu should be obeyed", condemned the alleged refusal of the Department of State Services (DSS) to obey the order admitting them to bail, coupled with the failure to re-arraign Dasuki on fresh charges,
Falana urged president Buhari not to travel the same road used by the Peoples Democratic Party which cost it power at the centre.
He said that for the 16 years that the Peoples Democratic Party (PDP) was in power, the Federal Government exhibited total contempt for the rule of law, in which the constitution and other laws were breached with impunity while court orders were disobeyed on a regular basis.
One of the reasons Nigerians voted for President Muhammadu Buhari was his promise to fight corruption and end impunity, he sid.
"Therefore, he has a duty to ensure that all organs and officials of the government operate within the ambit of the law," the lawyer said.
The lawyer therefore enjoined the  President not allow overzealous security personnel to engage in impunity and thereby expose the government to unwarranted embarrassment.
"The decision of the DSS to ignore the order admitting Col. Dasuki to bail coupled with the failure to re-arraign him on fresh charges is tantamount to impunity. If the Federal Government was aggrieved by the order admitting Col. Dasuki to bail, it should have challenged it at the Court of Appeal."
Falana said the order admitting Kanu to bail should also be complied with.
To him, if the Federal Government had other charges against both suspects, it should file them in court.
"There is no provision for keeping criminal suspects at the pleasure of security officials. Meanwhile, all valid and subsisting orders made by courts in favour of criminal suspects should be obeyed without further delay," he said.