Buhari, APC have no hand in Abia judgment – Party Chairman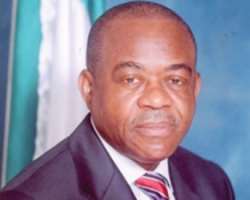 The All Progressives Congress, APC, Abia State chapter has warned its Peoples Democratic Party, PDP, and the All Progressive Grand Alliance, APGA, counterparts to stop linking President Muhammadu Buhari and other chieftains of his party, the All Progressive Congress, APC, to the judgment of the Court of Appeal, Owerri, which sacked Gov. Okezie Ikpeazu, from office and declared Dr. Alex Otti, as the Governor-elect.
Chairman of APC in Abia state, Hon. Donatus Nwankpa, who stated this in an interaction with newsmen in Aba, denied reports making the round making rounds in the state that President Buhari and other APC chieftains influenced the Appeal Court's judgment against the PDP.
'The APC in Abia State hereby expresses our dissatisfaction over attempts by disgruntled elements to drag the All Progressives Congress (APC) into this drama. We are warning people who have been going about mentioning that the APC under the leadership of President Muhammadu Buhari is influencing what is happening in Abia to as a matter of fact desist forthwith, but that they should face their matters. It is an act of irresponsibility for anybody to have mentioned or accused APC as a party or President Buhari of having anything to do with the Appeal Court judgment delivered at Owerri.
"It is on record that the APC from the local government to the federal level have no hand in the outcome of the legal process as regards to the Court of Appeal Judgment in the Abia state governorship election and even the awaited Supreme Court verdict because we are not party to the suit to start with.
'We enjoin APGA and PDP to concentrate and ask their legal team to rise up to face the legal battle now lying before the Supreme Court. They should stop dragging the name of the President and APC chieftains to the matter. The two parties should allow the law to have its course,' Nwankpa stated.
The party chairman condemned the protests over the Appeal court judgment by the two parties as a display of irresponsibility and warned them to stop breaching the peace of the state.
'Is Abia the only state where there are ruling from the court? There have been rulings in Akwa Ibom, Rivers and among others; why should the case of Abia be different?    What Abia needs at the moment is peace and a conducive environment which will engender economic and infrastructure development.'