Restoration Campaign Organisation Calls For The Arrest Of General Ogunbos
….Over The Latest Attack On Peremabiri Community In Southern Ijaw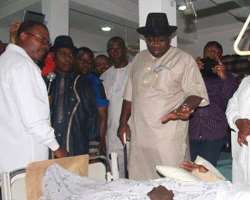 Reports just reaching our news desk says armed militants led by General Ogunbos, accompanied by military and civil defense personnel, this afternoon (Tuesday 5th January), invaded Peremabiri community in Southern Ijaw in six heavily armed gunboats, shooting sporadically as villagers scamper for safety.
The Director of Publicity, Restoration Campaign Organization, Jonathan Obuebite, in a live telephone programme on state radio in Yenagoa this afternoon, called for the immediate arrest of General Ogunbos, just as community leaders from Peremabiri reached out to the campaign office seeking government's urgent intervention and the security agencies.
The attack on the riverine community is coming less than a day to the distribution of electoral materials in Southern Ijaw ahead of the supplementary election scheduled for this weekend.
The Independent National Electoral Commission (INEC), had announced on Monday, that it will commence distribution of electoral materials on Wednesday January 6.
Obuebite recalled that Governor Dickson had only yesterday, at a crowded world press conference, aired live on major Radio and TV stations across the country, drew the attention of the of the world to the plot by the APC to rig the election by unleashing violence and mayhem in the supplementary election scheduled for this weekend in Southern Ijaw.
His words: "I want to remind the public that Governor Dickson only yesterday while addressing a world press conference drew the attention of the public to plot by the APC to rig the rerun election in Southern Ijaw by further unleashing violence and mayhem. The attack on Peremabiri by militants led by General Ogunbos has vindicated our position as a party."
While condemning this act of violence on his people, Obuebite further called on the security agencies to swiftly mobilize its men to Peremabiri to arrest the situation and also bring the perpetrators to book.
As part of efforts to stay in constant communication with the people of Peremabiri and keep tract of the situation, the campaign spokesman urged the people to call the hotlines as follows:
The lines are, 08144075097, 09034390575, 07015076299, 07088270850, 09084989893 and a dedicated website for the election, http://www.savetheijawnation.org .