Nwokoye's "Voices Of Happiness" Wraps Up Glorious Christmas In Anambra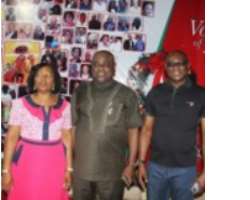 For most people in Anambra State, last Christmas would go down as one of the most memorable in recent times. It was not only remarkably peaceful; it was also amazingly colourful. There was no greater colour than the bewitching lights of Upper Iweka and the sonorous voices that rose from its gardens on the 23rd night to welcome Christmas with a canopy of songs. Upper Iweka that used to be the very den of daredevil robbers! And there was perhaps, nothing as amazing as watching the governor of Anambra State, Chief Willie Obiano burst into a hearty song; Que Sera, Sera, by Doris Day, his boisterous voice resounding through the Yuletide night.
There at the Special Carol night, while Governor Obiano sang and urged the crowd to join him, he may not have realised that he was igniting a silent fire in the heart of one of his trusted lieutenants – Sir Willie Nwokoye, his Principal Secretary. And in the graffiti of exploding fireworks that spiralled high into the skies of Upper Iweka, Sir Nwokoye dreamt up his own brilliant interpretation of Obiano's body language.
And so, the following day, Sir Nwokoye sent out texts to family, friends and colleagues, inviting them to an open session of piano, violin, flute, sax and guitar in his country home in Amawbia. As it turned out, what Nwokoye and some of his guests had imagined to be a modest evening turned out a big event as his entire compound and the surrounding neighbourhood were over-ran by guests and not just guests but quality guests and VIPs. It was an enchanting evening that was made luminous by the breath-taking performances of a cast of talented choirs, instrumentalists and solo performers.
On the bill for the night were famous groups like the Lagos City Chorale, the Ciduc Chamber Chorale, The Elite Family Choir, The Sit Simon Choir, The St Mathew Catholic Choir. But the evening essentially belonged to the raw but peerless solo performance by Oluchi Odii; a contestant of the Season 8 edition of MTN Project Fame Academy. Oluchi's rendition on the night showed a lot of promise.
But it also stirred my curiosity. I wondered what inspired Sir Nwokoye into hosting such a night of enchantment. But I was not alone. My colleagues, Emeka Ozumba and Chuka Nnabuife were with me on this. So, a few days later, we sat down together with Sir Nwokoye and his lovely wife to find out why. Below are excerpts of the interview that ensued. Happy Reading…
Q: A couple of days ago you assembled an impressive crowd in your home for a special feast of songs tagged Voices of Happiness. There was such a distinguished gathering that the Deputy Governor and the Chief Judge were all in attendance. What was it really about?
A: Well, if you surveyed the attendance that night, the big banner on the stage told all the stories. It was my own artistic interpretation of Governor Willie Obiano and his style and idea of governance. That was what was designed on that banner with the governor in the centre blowing the opu (horn). You could also see a collage of the faces of friends of mine, my colleagues in government, friends in Lagos and so many distant places which I had kept all the while. I put them together into some kind of collage which told its own story – that the governor is blowing the opu and all the faces are laughing, which is my artistic way of saying – the source of happiness is the governor who is the man at the center of the collage, blowing the opu.
Now, if you remember the Anambra Economic Equation; the Four Pillars plus the Enablers; there is an artistic side to it, because those Pillars and Enablers, what do they give ultimately? Happiness! Economics say – Gross Domestic Product (GDP). An artist would say Gross Happiness. GDP is GDP only if it translates to happiness. So, that is what I did that night. After our outing at Upper Iweka, I looked at Governor Obiano and said to myself, the message he is actually passing along to those of us who are his lieutenants at different levels is 'replicate this in your community.'
The only way you will remain relevant is not just about going to the office but when you come back, that thing that the governor does, do it in your own small way to your community. Choose any perspective. I have chosen this perspective; which is, a concert which I call Voices of Happiness – an ensemble of five different choirs. Incidentally I got all of them at no price at all. Among them was the Lagos City Chorale. That is an indication of how Anambra is opening up at the moment.
The Lagos City Chorale is owned by Emeka Nwokedi who is from Anambra. He tours all the world and wins laurels but he never brings his group back home to Anambra. But this year Emeka Nwokedi started featuring his group in Anambra, performing for some high end clients. So the previous night, he got wind of what I was planning and made a call to me and said that he was going to categorise their appearance here as Friendship Concert; which is an endorsement of the environment that is changing.
I think that those of us who can; should begin to do this kind of thing. So, I did that as a statement which I am going to enlarge. Anyone can take any perspective. What I did was Voices of Happiness – classical rendition of hymns and songs. And I invited people whom I considered to think alike. So, I leave you with this poser– in every ward in Anambra, if everyone does something similar, that would be an effective way of underlining the fact that life is free, safe and happy. Because if you say it and there is no event to illustrate it, then the environment does not exist.
I used this event to illustrate the fact that people can come out in the night and sing all the way. If the governor has created such environment, we should all be plucking the low hanging fruits. There are groups in the art world that are of Anambra extraction that are making waves elsewhere but they have never considered coming home because the environment is not right. Now with the snap of your fingers they are here. There is something about this state that that night underlined and I want the public to note it.
Q: From Conception to execution, how long did Voices of Happiness take?
A: The idea had always been lurking in my mind until two weeks ago; after the open air Anambra State Government sponsored Christmas Carol at Upper Iweka. When I watched the governor sing – So said I said I/whatever will be will be/the future looks bright to me/so said I said I, it occurred to me that I could put my own gathering together. I then spoke to one or two guys that are of like minds and we started expanding the concept. It took me twenty four hours to pick up the images for the banner. I want us to isolate the things that I've said here – everyone is at liberty to interpret what is expected of them by the principal that they serve. My interpretation is that once the governor does an outing, is there a way that I can distil the thing down to my local environment in some variety of forms? And that's what I did. Anambra would be electrified if after the governor's outing everyone goes to their individual localities and begins to showcase it. That way, there is a political side to it. You don't talk people into following you; you inspire them to follow you. If they see you as a source of happiness in any form, you don't have to work hard to point the way politically for them to come along.
I may use this opportunity to tell you that my grassroots community social responsibility engagement with my ward 1 actually holds every last Saturday of the month when I do what I call Missa and Mensa. Every last Saturday, my tithe is that I use ten percent of my salary to hold mass for the elderly. We hold mass and serve breakfast. It is like a carnival. There is this air of conviviality. So, if you see the faces on that banner, you will notice that they represent the high and the low. My cleaner's face is there. My drivers and security men's faces are there, side by side with the governor's face and Pat Utomi and other important people. I think this makes a permanent mark on people's consciousness.
Q: I thought it would be a quite evening where an organist would be playing to a small group of friends but when I got here I realised that it was a huge concert. Please, is it a one off show?
A: Well, I have just created a brand for myself. And that is Voices of Happiness. If I can get this done every year at the price that I did it this year, I will keep on doing it. The difference would be that I'd keep tweaking the features but the concept and the theme will remain the same. But we will never deviate from the Voices of Happiness. This means that the mighty and the low will be in common participation in anything that I do.
Q: What should we expect next from Voices of Happiness?
A: I know how things happen in Anambra. If someone starts an idea, it becomes a movement. We have just proved that it can be done. Very soon, we will begin to discover artistic talents of Anambra extraction that are domiciled somewhere contributing to a life of happiness elsewhere. When that happens, you will begin to see them come out in a deluge. It is only the Lagos City Chorale that we have identified. There are more such groups waiting to get a stage to show what they can offer; which is a way of opening the door for people outside to come and witness what is happening in Anambra. And when there is security and people know that Anambra is safe for anyone to return to and there are no events happening within the period that events wouldn't have ordinarily happened, there is no way to illustrate that Anambra is safe.
I want to call your attention to this – I was around during last Christmas and I am around today. The difference between last Christmas and this one is that clearly most of the people that returned this year came from overseas with their families; bringing their own concept of how to celebrate Christmas. I visited two families who set up giant screens in their compounds and were shooting movies and inviting friends and families. So, that tells you that the concept of what makes people happy during Christmas is beginning to get sophisticated. Before now, it used to be traditional marriages or masquerade displays or even burials. This year, the concept got more sophisticated.
Q: Do you see a tie in between what we observed this Yuletide and what has happened in the state in the last twelve months?
A: What happened in the past twelve months led to what we witnessed this Christmas. In the next twelve months, you will see something different. In the next twelve months, there will be facilities to support events that will be held here and you will find out that the hunger for those things had been bottled up all along. I was shocked by the crowd that turned up at the Voices of Happiness. We suddenly found out that we didn't have enough seats. I didn't expect the crowd that I saw. That tells you that there is a hunger for this type of entertainment. So someone can do an evening of reading and folklore and it would be totally sold out and you wouldn't find a space. The reason is simple. Someone is in power and he is defining people's ways of life. So, when I say that I am fanatical about my interpretation of Willie Obiano, I know what I am saying. There is the hard and the soft. After eight years, that is what distinguishes him. He is not a governor of the hard. Any buffoon can sign a contract for roads and the roads would be built. But not everyone can inspire an environment that will inspire the grassroots into action. When you watch governor Obaino sing at Upper Iweka and you are arts inclined, you would want to take a bit of that home. Everyone in government is free to interpret what they are expected to do. So I interpreted that after the So said I said I in Upper Iweka I should go home and create an environment for So said I said I for people who couldn't come to Upper Iweka.
Q: Are we prepared for the explosion that may result in terms of arts and entertainment from the enabling environment that the government has created in the state?
B: Arts cannot explode on a scale that it becomes uncontrollable. The more it explodes the better for society. Governor Obiano's lieutenants are interpreting their roles well and are making out that governance is not only about sitting in EXCO and making policies but as the man who leads the way acts, we interpret what additional role that we need to play that may not be spelt out in the rule book. When we do it, we create the critical mass for him. Otherwise, he dissipates energy. It does not percolate.
Q: You had hosted some scholars from Oxford University who visited Igbo Ukwu. And now you have done this. How would you describe your attitude to the arts?
B: I have always held the opinion that the arts have everything to do with it. Governor Obiano naturally does not talk much about the arts but he acts in favour of it. It would be taking huge burden off the man if you can replicate his body language.
Interviewed and Written by James Eze
Culled from www.ifeadinmesi.com
Anambra Times... Facts don't lie!
2016-01-06 121004
2016-01-06 121023
2016-01-06 121039
2016-01-06 121055