Ex-niger Delta Militants Vow To Sustain Biafra Struggle, Demand Immediate Release Of Kanu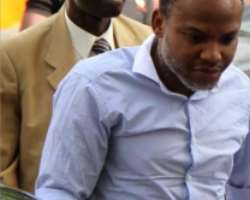 SAN FRANCISCO, January 04, (THEWILL) – Repentant Niger Delta militants and members of the now-rested Niger Delta Peoples Democratic Front, NDPDF, have advised President Muhammadu Buhari to immediately release the embattled leader of the Indigenous People of Biafra, IPOB, Nnamdi Kanu, in order to reduce the growing tension in the country.
They equally demand­ed an immediate pull-out of the military personnel deployed to the Niger Bridge in Onitsha, Anambra state, to allow free flow of traffic for the "innocent citizens of South- South and South East".
Leader of the group, Pre­cious Iyoyo (aka General Playboy) made this call over the weekend in Port Har­court, the Rivers State capital, where he warned that the continued detention of Kanu, even af­ter a court had released him on bail, was provocative and dictatorial.
He disclosed that former militants would not fold their hands and watch their brothers and sisters from the South-South and South East regions "chased, tortured or enslaved with impunity in our land."
"The Ni­gerian government is dan­gerously pushing us to the wall. The unprovoked mass shooting and killing of our brothers and sisters will no longer be tolerated," Iyoyo warned.
While calling on those from the two geopolitical zones who are sabo­taging the Biafra struggle to have a rethink, he vowed that the NDPDF would support and sustain the agitation.