Wellbeing Foundation Africa Of Her Excellency Mrs. Toyin Saraki Donates To Wife Of The President's Effort To Help Internally Displaced Person (IDPs) In Borno State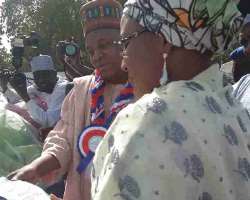 Ahead of the proposed extension of the Wellbeing Foundation Africa (WBFA)'s #MaternalMonday antenatal class to other IDP Camps, WBFA President – Founder, Her Excellency Mrs. Toyin Saraki, donated to the Wife of the President of the Federal Republic of Nigeria, Her Excellency, Mrs. Aisha Muhammadu Buhari's efforts, geared towards alleviating the poor living conditions of Internally Displaced Persons at several IDP camps in Borno State, north-east Nigeria.
In a bid to sensitize and prepare potential attendees of our #MaternalMonday antenatal classes, Mrs. Saraki, presented Mrs. Buhari with WBFA's goodybags – courtesy of Unilever Nigeria (containing Unilever's Camay brand of personal hygiene products) and breast-feeding kits in support of Mrs Buhari's Future Assured Initiative.
Expressing her unwavering support and commitment to improving Reproductive, Maternal, Newborn, Child and Adolescent Health and Nutrition (RMNCAH+N), and the reduction of maternal and child mortality, Mrs. Saraki stated, "I am delighted to support the Future Assured Initiative of the Wife of The President, Her Excellency Mrs. Aisha Muhammadu Buhari, by meeting the needs of pregnant and nursing displaced mothers in IDP Camps, through innovative and effective interventions such as the provision of essential and basic hygiene commodities and antenatal classes. As I strongly believe that, together, we can create an enabling environment, where no mother or child dies from preventable causes, during pregnancy and after child birth, irrespective of their economic status or location.
Mrs. Saraki is also the Inaugural Goodwill Ambassador of the International Confederation of Midwives; the Save the Children Newborn Champion for Nigeria; the Grand Patron of the White Ribbon Alliance Nigeria; and the Wife of the Nigeria Senate President.