Appeal Court ruling: Accept my confirmation as Taraba Governor -Ishaku tells APC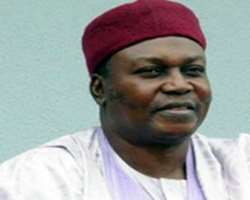 Governor Darius Ishaku of Taraba State, on Sunday, promised to appoint members of the All Progressives Congress (APC) in the state into political positions.
He urged them to accept his confirmation as governor by the Court of Appeal and work with him for development of the state.
Ishaku made these remarks in Jalingo while addressing Peoples Democratic Party (PDP) loyalists who congratulated him over the victory.
The court had upheld the election of Ishaku of the PDP and set aside the state Elections Petitions Tribunal declaration of Sen. Aisha Alhassan of APC as the governor.
According to him, there are 'many jobs' in his government that can go round the APC members.
He noted that the series of litigations that followed the April 11, 2015, governorship election had slowed down the pace of development of the state by 30 per cent.
'I am calling on all APC members to accept this judgment and come so that we can work together for the socio-economic development of our dear state.
'Sincerely speaking, I have so many jobs to share with them. Let them come.
'My mandate is for four years but we have spent many months in the court. These litigations are not helping the state,' Ishaku said.
The governor said his immediate focus after the victory was to consolidate his effort of bringing peace and development to the state.
'I deliberately informed our supporters to celebrate our victory in confinement as against wild jubilation that could trigger violence.
'I am glad to hear from the security chiefs here that not a single person was hurt before and after the delivery of the verdict.
'My priority remains to develop the state as you can all attest to the fact that there is massive improvement in water and electricity supply in Jalingo.
'We intend to now expand our operations to other council areas, focusing more on health and education,' Ishaku said.
Earlier, the state PDP Chairman, Mr Victor Bala, said the judgment indicated that the PDP had reclaimed its mandate. (NAN)