60 Internally Displaced Children Circumcised In Damaturu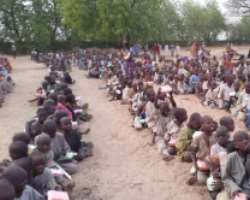 SAN FRANCISCO, January 03, (THEWILL) – The Yobe State Emergency Management Agency (SEMA) has circumcised about 60 boys, aged five to 10, at Pompomari Internally Displaced Persons (IDPs) camp in Damaturu.
This was disclosed by Alhaji Musa Jidawa, Executive Secretary, SEMA, who revealed that the boys were circumcised according to the tradition and custom of the people.
According to him, some of the boys lost their parents to Boko Haram attacks on their villages, while others were with their parents in the camp.
"Circumcision of boys as we all know is the first initiation (rite) of the boy to manhood which is his right and we have just given them this right today," Musa said.
"The agency provided each of the circumcised boys with a blanket, a set of new clothes and a chicken as is done traditionally.
"We have made adequate medical arrangements at the camp clinic to provide them with medical treatment and needs for speedy healing.
"The agency in conjunction with the community leaders and parents agreed to circumcise them at this period of cold season because it heals faster," Musa said.
Some of the parents, who spoke with News Agency of Nigeria (NAN), expressed appreciation for the circumcision of the chidden and said that it had given them a sense of belonging.
Bulama Muhammadu, a community leader, said SEMA had always made the displaced persons feel at home.
"Since we were admitted into this camp, SEMA has been very supportive, it has been further proved today that SEMA is making us feel at home away from home," he said.
Hauwa Goniri, a widow whose two children were circumcised, said SEMA took over the responsibility of her late husband, which was transferred to her after his death.
Goniri said that they were highly grateful for the important event in the lives of the children.