Buhari's Supporters, Opponents Trade Words On Twitter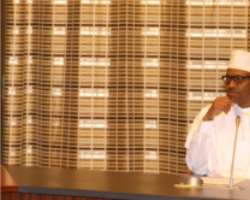 SAN FRANCISCO, January 03, (THEWILL) –  Reactions have continued to trail the Presidential Media Chat by President Muhammadu Buhari with a hashtag, #TyrantBuhari, trending on twitter on Sunday.
The hashtag, created by people who were displeased by the president's response to some of the questions, has also attracted supporters of the president on twitter.
Some of the popular tweets castigating the president includes "Once a dictator always a dictator. The branding nd (sic) repackaging is inconsequential for in dew (sic) time the tyrant in surfaces" by @Princejoseph1
"Respect court orders or resign, Newspaper headlines when a tyrant is presiding" tweeted by @beece_ngum
"We support a sincere anti-corruption fight, not the protection of corrupt friends to prosecute alleged corrupt opponents" by @Wordsbykazi.
"The civility of some nigerians (sic) is disgraceful, how can #tyrantbuhari rubbish the Constitution and be praised?? Human development is crucial" by @GeorgeDodaraDan.
Supporters of the President, not to be 'out-tweeted' by the negative comments responded in the same vein.
@engrjosh "Call him #TyrantBuhari all you want, @MBuhari is our best choice of returning Nigeria to sanity. He is not perfect, but our YAMS are safe".
I love a #TyrantBuhari if that will stop goats from eating yams in same room & differentiate stealing from corruption. This is d (sic) real Change." By @Shuaeebs
"He's not struggling alone… We all got his back! We support #TyrantBuhari for life! @sikie
"I know quite well that this is from d (sic) corrupt politicians. No matter what you do, this'll not divert president attention" by @aderemiadeoyejola.
Some of the statements made by the president during the chat includes
"If you find any of my 36 Ministers with a corruption case in court name them so I can look into it."
"I am honest with you, I don't know whether Chibok girls are alive."
"If Boko Haram continues with suicide bombings, we might consider banning wearing Hijab."
"Nigeria doing quite well in anti-corruption war, treasury looters will eventually end up in courts."
"I swore by the Holy Quran to protect and obey the constitution, no one will be above the law."
"We will not allow anyone create a state within the Nigerian state."
"There's a treasonable charge against Kanu and I hope the court will listen to the case against him."
"If you see the kind of atrocities people like Dasuki committed you won't give them bail."
"We may have to send the young unemployed youth seeking N5k fee to farm to earn the money."

IMG_20160103_071310

IMG_20160103_071411

IMG_20160103_071437

IMG_20160103_071458

IMG_20160103_071658