N.5 Billion Gift Offered To Bindow By Atiku: Group Described Jibrilla As The Most Unfortunates Governor Adamawa State Have Ever Had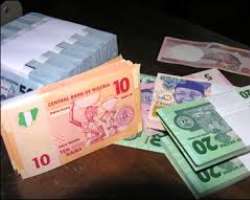 According to a group who are known to be Nyako Supporters Group (NSG) described Governor Mohammadu Jibrilla Umaru Bindow of Adamawa state as the most "unfortunate" Governor the state have ever produce.
The group further said that Bindow is an "Ingrate" who has biten the fingers that fed him well to become the governor of the state.
The leader of the group, Alhaji Aminu Adamu Namtari from Mayo Belwa, berates the governor while briefing newsmen in Yola.
" Jibrilla is an ingrate human being who has no single conscious and shame, he has indeed bitten the finger that fed him well to become the present Governor of the state".
" It is not something secret that the governor rode on the structure of former Gov. MurtalaNyako to become a governor.
``We found it disgusting that N500 million has made him to transfer his loyalty to Atiku, I feel embarrassed that N500 million is Bindow's Problem.
``If his problem is such money, the NSG can give him more than that.
``Our concern is not whether Bindow's loyalty is to Atiku or whosoever, but for him to stop embarrassing the state.
Namtari sees Bindow as half baked brain, a reason enough to made him a frail person to lead a very complex state like Adamawa that is endowed with high intellectual human being known in this country.
'`I found it very difficult to believe in the past that the allegation of our governor not been educated is true, but his actions are convincing facts that he is not properly educated.
``No wonder, there is this saying that half education is bad.''
About Nyako and his son's stay in London while the APC campaign lasted is not true, Gov. Nyako's circumstance of staying in London is generally known that his life was under threat after his impeachment".He added
Aminu also reminded the state's lawmakers to as a matter of urgency to commence the impeachment process of Jibrilla.
According to him Bindow has openly admitted that Atiku Abubakar gave him N500 Million through one called Jauro Turaki to fund his 2015 gubernatorial campaign, an act that violated section 91(3) 9 of the electoral Act 2010 as amended.
He said "under section 91 (3) the maximum election expenses to be incurred by a governorship candidate shall not exceed N200 million.
``We look at it as a breach of the said section of the law and therefore call on the State House of Assembly to commence impeachment proceeding against Gov. Mohammed Umar Jibrilla.
``While sub section 9 of the same electoral Act states that no individual or other entity shall donate more than N1 Million to any candidate."
" Governor Mohammed UmarJibrilla has flouted the INEC regulation on funding of a governorship campaign in the 2015 general election.
``A candidate who knowingly act in contravention of this section commits an offence and on conviction shall be liable: in the case of a governorship election to a fine of N800000 or imprisonment for 9 months or both.''
Namtari regretted that the governor could be ignorant of the law, insisting that a state like Adamawa cannot afford to have an ignoramusas governor.
AbdulAzeez who they claimed was in London all through is now a serving senator, was he voted for by proxy? He asked.
``It still beats my imagination that the same Atiku who is today his political lord had sponsored AlhajiMijinyawa (Yayaji) his political godson for the same governorship position and if not for Nyako's structure how could he have won the primaries?
``He forgot when Atiku frustrated him by refusing to fund his campaign and Nyako supporters still stood by him until his victory.
``Let us not make politics look like prostitution; yesterday you told the whole world that Nyako made you governor. It is not up to six months now Atiku has made you governor, maybe after another six months, you will transfer loyalty to Osinbajo."
It will be recalled that Gov. Jibrilla said his transfer of loyalty to the former Vice president is due to Atiku's donation of N500 million to his campaign, claiming that Nyako did not donate any money to his campaign, that Nyako and his son left Nigeria for London during the electioneering period.
It is also on record that on several times while Jibrila commenced his earlier days campaigns, he public announced that Nyako is his Father that work out his ways to the National Assembly and is still the one that is champion the cause of his gubernatorial ambition.