Chibok girls alive and kicking, says Boko Haram's contact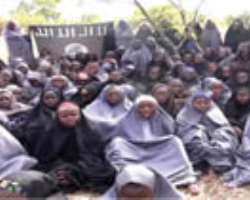 Ahmed Salkida, journalist cum confidant of the leadership of Boko Haram is confident the abducted Chibok girls are still alive with some of them refusing to convert to Islam.
No fewer than 200 of the original 300 schoolgirls kidnapped from their dormitory in April 2014 are believed to still remain in the custody of the terrorists.
President Muhammadu Buhari said in his maiden Media Chat on radio and television on Wednesday that government had no intelligence on the whereabouts of the schoolgirls.
He promised to negotiate with the Boko Haram leadership if there is evidence showing where the girls are.
Online publication, The Cable, quoted Salkida yesterday as asking Buhari to use state machinery to open up access to the militants rather than say he has no clue on the kidnapped girls whose abductions sparked off the #BringBackOurGirls campaign.
Sponsored Advert:
VACANCY! VACANCY!! VACANCY!!!
Job Position: Chief Accountant at an Agro-Allied Conglomerate in Delta State
Click here for details
'Most of the Chibok girls, whether they are split into groups or not, are alive, multiple credible sources have told me. And if a deal to release them will weaken national security and endanger the entire country, then the federal government shouldn't make a deal,' Salkida said.
He added:'I am confident that Chibok girls and other captives can return to their families if the government is half as strong-willed as some of the girls in captivity that have refused to be married out or give up their faith.
'The girls would have never backed out of any process, no matter how irritating it is. They would stay on and negotiate hard until they get a deal that will earn them their freedom and stop such abductions so that no one else can ever witness their woeful plight.'
Boko Haram leader, Abubakar Shekau — from whom nothing has been heard in the last 10 months — once released a video of the schoolgirls and said he had sold them off to marriage. All efforts to free the girls have failed. Agency report