29 States Not Remitting Billions Accrued To Contributory Pension – Nlc Alleges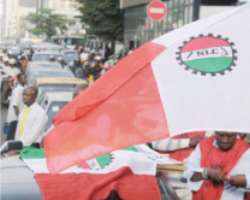 SAN FRANCISCO, December 31, (THEWILL) – The leadership of the Nigeria Labour Congress, NLC, on Thursday accused 29 state governments of not remitting multi-billion naira accrued from contributory pension scheme to the National Pension Commission, PenCom.
Investigations by THEWILL showed that N5.150 trillion accrued into the Retirement Savings Accounts as of October 31, 2015. Of the sum, N2.898 trillion or 56.28 percent was invested into Federal Government bonds; N528.769 billion or 10.27 percent was invested into Treasury bills; N162,031 billion was invested into states government's securities, according to Ayuba Wabba, NLC president, who raised the alarm in the New Year goodwill message obtained by THEWILL.
Wabba, however, threatened that the Congress "shall mobilise for all employers to pay the new pensions contribution of 18 percent of total pay, which came into effect with the signing of the new pension Act into law in July 2014."
To achieve this, he vowed that the Congress would work with the state councils in the new year, with the view to engage state governments to pay up pension arrears of their retired employees, and to conclude arrangements to join the Contributory Pension Scheme as provided for in the Pensions Reform Act of 2014.
He lamented "that one of the legacies of the misrule of the preceding years is the incidence of irregular and non-payment of payments of our retired civil servants and senior citizens. While salaries were been owed for up to nine months, the situation of the pensioners were worse as many states were in arrears of pension payment for between 12 months or more.
"This sorry situation is against the background of virtually all recent past and serving governors awarding themselves scandalous and end of tenure benefits while members of the legislature immorally awarding themselves outrageous retirement benefits running into hundreds of millions of naira for serving their states, some for just a tenure of four years."
He observed that the contributory pension scheme which was first introduced in 2004 and further amended in July 2014, sought to provide long term solution to our pension crisis, many of the states have not made enough effort for their civil servants to join the scheme.
"As at April 30, 2015, only eight states had commenced remittances to contributions into the Retirement Savings Accounts (RSAs) of their workers, while another six states have commenced funding of their retirement benefit bond redemption fund accounts.
On the new national minimum wage, Wabba insisted that the Congress will re-open negotiations for an upward review of the N18,000 minimum wage which became law five years ago, as stipulated in the National Minimum Wage Act of 2011 which established parameters for re-opening negotiations for a new national minimum wage.
"Such review would take into perspective the purchasing power of the naira and prevailing rate of inflation. As things are right now, with the sharp devaluation of the naira, the existing N18,000 minimum wage equally declined in value, thereby worsening the cost of living for workers.
It is however bothersome that the governors flew a reprehensible kite of minimum wage reduction in 2015.
"NLC did realise that this was a strategy to get us talking about retaining the paltry sum of N18,000 as minimum wage instead of calling for an increment. We had responded accordingly and made clear our resolve to fight against any attempt to reduce the minimum wage, which would be illegal, as would be efforts to curtail an upward review, in line with the provisions of the 2011 National Minimum Wage Act.
"It was therefore discomfiting that President Muhammadu Buhari appears to have given tacit support to the governors' gambit, in the course of his maiden presidential media chat on December 30, 2015. Echoing the claim that states might not have the capacity to (continue to) pay a mere N18, 000 as minimum wage.
"For us in Congress, the position of the governors supported by the views of the Mr. President cannot be empirically defended. There is no state of the federation that cannot pay much more than N18, 000 as minimum wage if corruption and extravagance on the part of the public office holders are stamped out. If people are at the centre of states' policies, which is of the essence for ensuring development, the focus should be on economic empowerment of the working people.
"This is also important for kick-starting the economy from its present comatose state by increasing aggregate effective demand, through their enhanced purchasing power. Further, experience has shown that there is no amount which the employers' private entrepreneurs and particularly as government will not initially claim is too much. For example, during the 2-year negotiations which led to the 2011 National Minimum Wage Act, NLC and TUC demanded N52,000 as minimum wage. Several states that said this was too much and they could not pay more than N32,000 would later still say that even N18,000 was too much!"
While reacting to the unemployment rate in the country, Wabba pledged the Congress' resolve to dialogue with government and its various agencies on how President Buhari's administration intends to actualise its programme or promise of creating three million jobs annually.
Wabba, who expressed dismay over lackadaisical attitude of the past administration in tackling the challenges, lamented that the "unemployment crisis in the country is assuming a frightening dimension as there is hardly any household in the country where there is not at least two to three long-term unemployed persons several years after they had completed their schooling.
"We shall also be canvassing that governments at all levels embark on labour intensive alternatives in their development strategies as a conscious way of utilising available human resources," he promised.