Buhari's Presidency A Misadventure For Nigerians, He Remains A Dictator – Fayose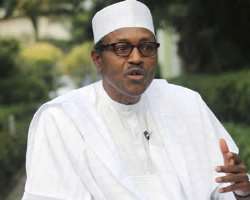 Ekiti State Governor, Mr Ayodele Fayose has described the return to power of President Mohammadu Buhari as a misadventure for Nigerians, calling on the international community, especially organisations like the United Nations (UN) and European Union (EU) to focus their attention on human rights abuses and contempt for the rule of law in Nigeria in 2016."
Governor Fayose, who said he was not disappointed by the President's
response during his media chat, to question on the disobedient of
court orders by the Department of State Security (DSS), added that he
had said it several times that once a dictator will always be a
dictator and that those who helped him to power will end up in his
gaol of dictatorship.
In a statement signed by his Special Assistant on Public
Communications and New Media, Lere Olayinka, the governor said he was
aware of plot to muzzle him and others considered as non-conformists
because of their opinion and critical stance on the President and his
government, adding that; "such plot will definitely be
counterproductive."
He described the way and manner the former National Security Adviser,
Col. Sambo Dasuki (rtd) was being treated by the federal government as
the hallmark of a dictator.
"I said it earlier that Buhari is a dictator and I warned several
times that those that were promoting this lion will end up in its
belly.
"Having heard from the President himself declaring Col Sambo Dasuki
and Nnamdi Kanu guilty even before trial, Nigerians should be prepared
for a return of the 1984 experience in which Buhari's Military
tribunal sentenced people to jail terms ranging from 21 to 300 years,
such that the Nigerian Bar Association (NBA) had to boycott the
tribunal. Even when former Ondo state Governor, late Chief Michael
Ajasin was twice cleared of any wrongdoing by Buhari's military
tribunals; he was made to remain in prison.
"Those who witnesses Buhari's regime in 1984-1985 will still remember
how the National Security Organisation (NSO) – now DSS broke up a
press conference of the Academic Staff Union of Universities (ASUU);
detaining four of its officers, banned the National Association of
Nigerian Students (NANS), the Nigerian Medical Association (NMA) and
other associations and arrested their leaders. Even those who were not
arrested were watched and warned by the NSO.
"As it was in 1984 when an accused was presumed as guilty and must
have to prove his innocence, Nigerians are now being told by Buhari, a
democratically elected President that those he accused of corruption
are already guilty and they do not have rights to enjoy bail granted
them by the courts even after meeting all the bail conditions.
"That is enough a signal on what is to come in 2016 and the
international community and lovers of democracy in Nigeria must be
watchful of the level of human rights abuses that will be perpetrated
by President Buhari.
"However, I want to assure Buhari that democratic time will surely
catch up with him because no dictator has ever succeeded in muzzling
the rule of law, which is the basic ingredient of democracy," the
governor said.
While calling on Nigerians to brace up for more hardships to be
occasioned by the federal government's strange economic policies,
Governor Fayose said; "With the President referring to Deutschmark and
French Franc as still being in use in Germany and France, it is
obvious that 1984 economic solutions will still be applied to
Nigeria's economic problems in 2016."