"We Must Resolve This New Year To Give Impetus To Our Hope, Dreams And Expectations Which Must Not Be Lost," Adebanji Jimoh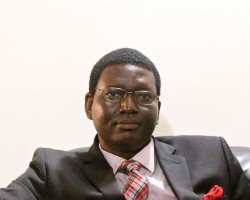 As Kogites join the rest of the world to usher in the New Year 2016, Mr. Adebanji Jimoh, has advocated unity of purpose among the citizens as a means to solve the kogi's problems.
In a Goodwill Message to Kogites, Adebanji said the problems currently bedeviling the State were mainly man-made and as such would only take an agreement among the people to resolve to remove the things they find unacceptable in the society.
Mr. Adebanji, who noted that the state's problems, whether economic, social or political, were rooted in ethnic and religious intolerance, said the panacea lay in the belief by citizens in the Kogite Project and the resolution to determine the kind of state of our collective dreams.
"Looking back at all that we went through in the past year, perhaps, the time has come for us all to take an introspective look at ourselves in an attempt to get to the root of our problems and challenges. The truth of the matter is that, whether it is the downturn in the economy or our worsening security situation, the challenges are traceable to ourselves. We must build a state and a nation where there is equity, justice and fair play. Kogi is blessed to be one of the richest state in Nigeria, and it will take good governance for us to get there" Banji said.
He pleaded, "That we should all join hands together to support the incoming government for the betterment of Kogi state. Our hope, dreams and expectations must not be lost, we must resolve this New Year to return to ourselves and give impetus to them. To do this successfully, we must begin to believe in Kogi and the Kogite Project once more. We must start by defining for ourselves the kind of future that we want. It is only when we agree on this that we can unite our efforts towards recreating the Kogi of our collective dreams and make it come true".
Wishing all Kogites a prosperous New Year 2016, "In this brand New Year 2016, therefore, please let us continue to work together and pray for both our country and our dear State for peace, stability and let us continue to lead from the front in all that is right and worthy in this country and Continent", he added.