Jenner's fans are in a frenzy over her new tattoo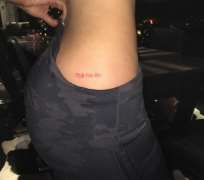 Jenner's fans are in a frenzy over her new tattoo. [Photo: Instagram/Kylie Jenner]
While we're all spending our Christmas money on the Topshop sale, Kylie Jenner's invested in a rather more long-term buy – a new tattoo.
The 18-year-old treated herself to some skin art the second Christmas was over – but the Internet's struggling to translate it.
Taking to Instagram this morning to unveil her new ink, which sits on the reality star's right hip bone. It appears to be a phrase, which reads as "\'sa-ne-të\" and is written in red ink.
Jenner's kept tight lipped about the tat's meaning, captioning the image with "All red."
The only conclusion we've arrived at is that the tattoo is simply the phonetic pronunciation of the word "Sanity".
Jenner's had a tattoo done at Bang Bang NYC before – and was tagged in this IG snapshot with the parlour's resident artist to mark the occasion. [Photo: Instagram/Bang Bang]
Jenner did reveal where she got her skin art done, though. She tagged lauded New York City tattoo parlour Bang Bang in the post, where the likes of Cara Delevingne and Rihanna have also had tattoos done.
It's not Jenner's first inking. In November, Bang Bang's resident inker Keith McCurdy was responsible for giving the reality star her first tat on her lower back – and she shared a video of the ordeal with her fans on Instagram.
Kendall's subtle white ink tattoo. [Photo: Instagram]
The star's big sister Kim Kardashian has always been openly against tattoos and has previously warned both Jenner sisters not to get inked.
But Kylie's not the only one who's gone against Kim's rule. Kendall's also got a tattoo – albeit a very tiny one. The model sports a tiny white dot on her middle finger – arguably the world's most subtle example of a teenage rebellion.