ELECTION 2010: POLITICAL CELEBRITIES – THEN AND NOW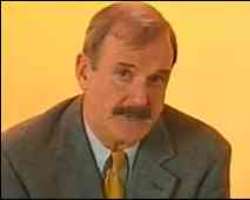 John Cleese asked people to vote for the Liberal Democrats in 1992
The worlds of politics and celebrity have often collided, with parties regularly seeking to add a dash of glitz to campaigning. So far this time they've been few and far between – so here's a look back at some of the big names over the past 30 years.
ACTING

Monty Python star John Cleese went further than most celebrities in endorsing a party when he filmed a three-minute monologue for the Liberal Democrats in 1992.
It was based on the premise that many people liked the party's policies and its leader, Paddy Ashdown, but would not vote Lib Dem because they thought an election victory unlikely.
However in the subsequent general election, the party's share of the vote fell by 5% on the 1987 result achieved by the Liberal-SDP Alliance, and only 20 of their MPs were elected.
Another Lib Dem fan is Daniel Radcliffe , with the Harry Potter star telling US Vogue magazine last year he would pick Nick Clegg's party on 6 May "without a shadow of a doubt".
In 2005 David Tennant of Doctor Who fame backed Labour, saying the alternative was "a disaster area".

David Tennant (with Sarah Brown) is a prominent Labour Party supporter
He was also pictured recently with Sarah Brown, the wife of Prime Minister Gordon Brown.
Sir Sean Connery has long been an SNP supporter, with the former James Bond writing two years ago that party leader Alex Salmond was "the best leader Scotland has ever had".
The man known to millions of Coronation Street fans as Ken Barlow, actor William Roche , is a long-time Conservative supporter.
That is even though his character "was always assumed to be either socialist or liberal", Roache said while attending the Conservative Party conference in 2008.
Now: David Tennant is back for Labour in 2010, providing the voiceover to an election broadcast starring Sean Pertwee . Also back is One Foot in the Grave's Richard Wilson who narrates Labour's audio manifesto. Meanwhile Sir Michael Caine , who says he voted Labour in 1997, has switched to the Tories, appearing alongside Conservative leader David Cameron to back plans for voluntary "national service" for all 16-year-olds. Colin Firth has yet to be seen on the campaign trail but has contributed to the book Why Vote Liberal Democrat.
MUSIC

Neil Kinnock appeared in Tracey Ullman's video for My Guy's Mad At Me
He gazed longingly into her eyes and twirled her around for a dance.
But Neil Kinnock's appearance in the video for Tracey Ullman 's 1984 single My Guy failed to propel his Labour Party to the top of the voting charts, and despite the pop star's support, he never became prime minister.
Meanwhile Mr Kinnock's arch rival during that decade was leaving a lasting impression on a star – and UN goodwill ambassador – of the future.
Geri "Ginger Spice" Halliwell said Margaret Thatcher "was the first Spice Girl", telling the Spectator in 1996: "We Spices are true Thatcherites."
And the Conservatives also gained support from Matt Jay from the pop group Busted back in 2004.
"I don't really like politics but I've always grown up with their views," he said. "I just prefer their way of doing things."

Labour hosted a series of receptions at No 10 after coming to power in 1997
Numerous musicians accepted an invitation to 10 Downing Street following Labour's landslide election victory in 1997.
But Noel Gallagher of Oasis said later that he regretted going along, admitting: "A lot of us got carried away with the New Labour thing, me included."
"When Tony Blair was courting the music business idiots like me thought we could have a say, but it became a publicity stunt on his behalf."
Now: Take That's singer songwriter Gary Barlow appeared with David Cameron to back the idea of a UK-wide school talent contest along X Factor lines but their manifesto launch gained publicity for a celebrity who did not support the party. "Am horrified," wrote Keane drummer Richard Hughes after his band's song Everybody's Changing was used. Brian Eno continues his long support for the Lib Dems – the 61-year-old is Nick Clegg's official youth adviser.
WILDCARDS

Kenny Everett went on to parody Margaret Thatcher on his TV show
It probably seemed like a good idea to bring a touch of glamour to the Conservative Party conference in 1983.
The likes of film director Michael Winner , businessman Alan Sugar and snooker star Steve Davis were trumpeted as supporters.
But when the comedian Kenny Everett unveiled some policy ideas of his own – "let's bomb Russia" was one; "let's kick Michael Foot's stick away", referring to Labour's leader at the time, another – well, you can imagine the headlines.
The Tory-supporting X-rated comic Jim Davidson mocked Tony Blair in an address to the Conservatives' conference in 2000.
Mr Blair had been visibly perspiring when he appeared before Labour supporters a week earlier, so Davidson took to the stage in a sweat-soaked shirt and told the audience: "I think I'd make a great prime minister."
The former sports presenter David Icke became the Green Party's spokesman for three years until 1991.

Sir Patrick Moore was enlisted by UKIP and appeared in a party video
Then, according to his website, "he lost interest and left as his life went through the most unbelievable upheavals".
A cup of tea and a scone, a thatched cottage and a beautiful sunny day all co-starred with the astronomer Sir Patrick Moore last year when he recorded a promotional message for UKIP.
"Let's put Britain back on track," he said, ahead of a European Parliament election which sent UKIP into the stratosphere with more votes than either Labour or the Liberal Democrats.
Now: Cricket commentator – and former player - Sir Ian Botham was joined by David Cameron during one leg of his latest charity walk. Alan Sugar - now knighted and a peer – has donated money to the Labour campaign. Floella Benjamin and some old school friends of Nick Clegg – the Theroux brothers – have all popped up singing the Lib Dem praises. Celebrity chef Hugh Fearnley-Whittingstall , the satirist and political activist Mark Thomas and the author Philip Pullman are among those who have pledged support to the Green Party. Here are some more celebrity endorsements you suggested. You can send more using the form below:
[Actor] Neil Pearson did voiceovers and appearances for Labour in Blair's first two terms. Idiot.
Kate, Reading, Berks
Eddie Izzard has appeared in TV commercials for the Labour Party, with David Tennant doing the voice over work.
Salma, Birmingham
Andrew Lloyd Webber has lent his music and support to the Conservatives…
Francesca, Manchester
Joanna Lumley is backing Green Party leader, Caroline Lucas, in her campaign in Brighton Pavilion. She has also donated £1,000 to the campaign. Celebrity chef Hugh Fearnley-Whittingstall is also backing Caroline Lucas. Radiohead front man, Thom Yorke, has played a benefit gig for Tony Juniper, the Green Party candidate for Cambridge.
Luke, Brighton
Cheryl Cole said David Cameron is "slippery" in Q Magazine, she also said "We've always been Labour in our family, it just feels wrong not to be. Better the devil you know."
Az, Harrogate
If my opinion on an important issue like "who should govern the country" was to be affected by the views of, for example, a singer, actor or comedian then I should probably be denied the vote on the grounds of insanity.
Mike, Preston
"Celebrities" really have no place in the political process, except as a voter or candidate or elected official. Just because someone is rich or famous does not confer some sort of moral superiority to their views, be they Floella Benjamin, Kenny Everett or Michael Caine. Their involvement in a campaign reduces politics to selling soap. Fortunately in the UK the official election campaign is mercifully short and for that short period it would be nice to have a respite from showbiz and celebrities demonstrating their great "enlightenment" and massaging their own egos. Got to say that should also be true of programming. Listening to the "Now" show last night was like one long party political broadcast on behalf of the "anybody but the Tories party"!
Niall, London
And let's not forget the muppets, who have been supporting Labour for the last 12 years.
Andy, Bath
You missed out Eddie Izzard for Labour this year. Think that was the first party political broadcast I've ever enjoyed. Pity it was for Labour. Love Eddie, dislike Gordon.
Patrick, Runcorn
JK Rowling also donated some money to the Labour Party.
Vicky, Reading
The best ever Party Political Broadcast has to be the one for the Natural Law Party back in the '90s. They advocated that we should all take up yogic flying and were backed by the late George Harrison.
Linda, Kirkcaldy, Fife
Honor Blackman began publicly endorsing the Liberals in 1964. Joan Collins is a staunch Conservative supporter, as was the late actress, Wendy Richard.
Philip, Kenton, Suffolk
If UKIP gets a mention, the Respect Party – which has an MP – should get a mention. Prominent film director Ken Loach is a senior member and supporter of the Respect Party.
Adam, Birmingham
Let's not forget the incredible impact Robert Kilroy-Silk had upon UKIP's 2004 European election campaign.
Oliver, Leamington Spa
Prunella Scales fronted the Labour Party's broadcast in the 2005 election.
Philip, Kenton, Suffolk
I remember Smash Hits' heated political debates in the eighties. The consensus was pro-Labour (the Big Audio Dynamite & Housemartins posse for instance) but I remember electric legend Gary Numan and Alarm frontman Mike Peters supporting Mrs T's privatisation policy returning power to the people. The letters pages were heaving for months afterwards.
Steve, Diss, Norfolk
Let's not forget Phil Collins and Frank Bruno saying, "If Labour get elected, I'm leaving the country." I'm sure Labour got a load of votes from that!
Darren Thelwell, High Wycombe, UK
W C Fields gave the best endorsement for the non-voters like me. When asked who he voted for, he said: "For! I always vote against."
John, Wickford, Essex