Naira drops to 262 against dollar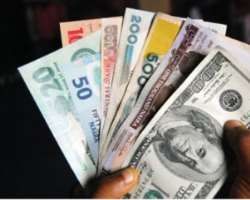 The naira weakened against the United States dollar at the parallel market on Wednesday. The local currency closed at 262 against the greenback two days after it rose from 265 to 260.
Currency analysts had predicted that the naira would remain weak against the dollar at the parallel market until the first week of January following the suspension of foreign exchange sale by the Central Bank of Nigeria.
The CBN had last Thursday suspended its weekly forex sale to Bureaux De Change operators till January 4, 2016.
The suspension, a normal practice in the financial services sector before the Christmas and the New Year holidays, is expected to exacerbate the current forex scarcity during the Yuletide season considering the continued pressure on the naira in recent times.
Analysts said the forex sale suspension would make the naira to remain weak, adding that dollar scarcity would make it difficult for the naira to appreciate during the Yuletide season.
Sponsored Advert:
VACANCY! VACANCY!! VACANCY!!!
Job Position: Chief Accountant at an Agro-Allied Conglomerate in Delta State
Click here for details
They added that low activities during the Christmas and the New Year holidays could make the local currency to remain at its current level against the greenback, or possibly drop slightly.
The Acting President, Association of Bureau De Change Operators, Alhaji Aminu Gwadabe, noted that forex sales had been suspended till January while business activities had slowed down till after the break.
'For now, most activities have been suspended; the naira may remain at the current level till January,' he added.
The CBN sold $10,000 each to 2,088 BDC operators in its weekly forex sale last Wednesday, totalling $20.8m (N4.1bn).
Forex scarcity, which is causing persistent decline in the nation's external reserves, has made the CBN to ration dollar supply to the banks, importers, the BDCs and the general public.
About two weeks ago, the CBN cut its weekly forex sale to the BDCs from $30,000 to $10,000 each.
Earlier, the central bank had refused to sell forex to over 1,600 BDCs over their failure to provide necessary documents for previous allocations. The development made the naira to fall from 241 to 280 at the parallel market two weeks ago.
The naira, which stood at 265 against the greenback before the Christmas holiday, had appreciated to 260 on Monday.
The currency had fallen to a record low of 280 to the dollar at the parallel market after beating what was initially regarded as a 42-year-low.
The CBN has also closed the interbank foreign exchange market till January 4, 2016. Agency report