Naira Firms Against Dollar At Inter-bank Market As Stanbic Ibtc Holdings Announces Leadership Change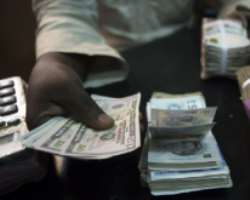 BEVERLY HILLS, December 30, (THEWILL) – The Naira on Wednesday strengthened against the dollar at inter-bank market as activities begin to slow preparatory to the end of the year .
Consequently, after trading on the same day, Naira gained N0.54k or 0.27 percent to close at N198.87k/$ compared with N199.41/$ the previous day.
The local currency closed stable at N265/$ and N267/$ at the Bureau De Change (BDC) segment of the foreign exchange market and the parallel market, respectively.
Also, the Central Bank of Nigeria (CBN) clearing rates were sustained at N197/$ at the inter-bank FX market.
Analysts at Cowry Asset Management Limited had expected the Naira to stabilise against the dollar on low demand this yuletide season against improved supply from the informal sectors.
Godwin Emefiele, governor of CBN, had at the last Monetary Policy Committee meeting, said the average Naira exchange rate remained relatively stable at both the inter-bank and Bureau-de-Change (BDC) segments of the FX market in October.
The exchange rate at the interbank market opened at N197/$ and closed at N197/$, with a daily average of N196.99/$ between September 21 and October 30, 2015. At the BDC segment, the exchange rate opened at N223.50/$ and closed at N225/$, with a daily average of N224.46/$, representing a depreciation of N1.50k for the period.
The relative stability in the FX market is attributable to the sustained supply of FX from autonomous sources as well as the effects of various administrative measures taken by the bank. Gross official reserves increased from $29.85 billion at end-September 2015 to $30.31 billion on November 20, 2015.
In another development, Stanbic IBTC Holdings Plc has announced some executive appointments and changes in its management structure.
Consequently, Demola Sogunle has been named deputy chief executive (deputy managing director) of Stanbic IBTC Bank Plc. Sogunle was until recently the chief executive of Stanbic IBTC Pension Managers, a position he held since August 19, 2011. Yewande Sadiku and Babatunde Macaulay have been appointed as executive directors, corporate and transactional banking and personal and business banking for Stanbic IBTC Bank, respectively, while Eric Fajemisin and Bunmi Dayo-Olagunju were appointed chief executives for Stanbic IBTC Pensions Managers and Stanbic IBTC Asset Management, respectively.
Sola David-Borha, chief executive, Stanbic IBTC Holdings, described the appointments as part of the group's succession planning process, underscored by the policy of growing its people and giving equal opportunity to all employees of the Group.
"These appointments, which take immediate effect, having secured all required regulatory approvals, will benefit clients in our various businesses immensely as these executives bring to bear an unmatched combined wealth of experience and sterling track records in their new positions.
"This will, no doubt, help our Group maintain its lead in corporate and transactional banking, wealth management, as well as the personal and business banking space," David-Borha said.