Dasukigate: Efcc Fails To Arraign Haliru Bello Over N300m Fraud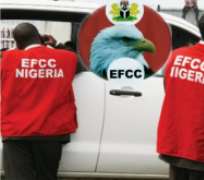 EVERLY HILLS, December 30, (THEWILL) – The Economic and Financial Crimes Commission (EFCC) has failed to arraign Haliru Mohammed, former defence minister and former acting chairman of the People's Democratic Party (PDP), as well as his son, Bello Mohammed, on a four-count charge of criminal conspiracy to take possession, convert, and retain the sum of N300 million.
The duo, alongside Bam Projects and Properties Limited, who were expected to be arraigned before Justice Ramat Mohammed of the Federal High Court sitting in Abuja, could not be arraigned before the trial court as a result of ill health of the 3rd defendant (Haliru Mohammed).
According to sources within the EFCC, Mohammed had been bedridden since the commencement of investigation into the misappropriation of about $2 billion meant for arms procurement by Sambo Dasuki, while he was the National Security Adviser (NSA).
However, after counsel to both parties in the matter arrived in court, a later date of January 5, 2016, was agreed upon for the accused persons to be arraigned.
The accused persons, among other charges, were alleged to have taken possession of the sum of N300 million paid into the account of Bam Project and Properties Limited with Sterling Bank Plc on March 17, 2015, from the account of the NSA with the Central Bank of Nigeria (CBN).
That the accused persons converted the said sum, purporting same to be for "Safe Houses," but which they claimed to have received for political campaign to wit: criminal breach of trust and corruption, an offence contrary to Section 15(2)(b) of the Money Laundering (Prohibition) Act 2011 as amended in 2012 and punishable under Section 15(3) of the same Act.
The charge reads in part: "That you Bello Abba Mohammed, Bam Projects and Properties Ltd and Doctor Aliru Bello on or about 17th March 2015 in Abuja within the jurisdiction of this Honourable Court, did conspire to launder the sum of N300,000,000.00 (Three Hundred Million Naira), which sum you claimed to have received for political campaign and when you reasonably ought to have known that the said fund formed part of the proceeds of an unlawful activity of Mohammed Sambo Dasuki (rtd) the then National Security Adviser (to wit: criminal breach of trust and corruption) and you thereby committed an offence contrary to section 18 (a) of the Money Laundering (Prohibition) Act 2011 as amended in 2012 and punishable under section 15(3) of the same Act."
It will be recalled that Haliru Mohammed who was removed on June 22, 2012 as the Minister of Defense during a period of escalating security problems in the north, was named in 2007 by German investigators as one of several Nigerian officials who received bribes from that country's telecoms company, Siemens.
In its October 4, 2007 ruling against Siemen AG, the Munich State Court named him as one of the recipients of 77 hefty bribes paid by Siemen officials in three countries- Nigeria, Russia and Libya.
The court said as minister, he received €550,000 in kickback in July 2002 and another 150,000 euros in August 2003.
The German court named several prominent Nigerians, including Mohammed, in the bribery scandal involving the communications firm in which, Mohammed was alleged to have collected €70,000 in two instalments, a charge he denied.