Cds Restructures Defence Headquarters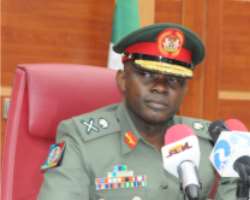 BEVERLY HILLS, December 30, (THEWILL) – The Chief of Defence Staff (CDS), General Gabriel Olonisakin, has reiterated his resolve to restructure the Defence Headquarters.
In this regard, the office of Campaign Planning, Coordinating Centre for Naval Component, Theatre Commander and Deputy in Operation LAFIYA DOLE as well as Theatre Media Office have been established to coordinate the operational activities of the Armed Forces.
The Theatre Media Office will interface with the media and general public in the North East.
The restructuring, according to the CDS, became expedient in order to inject new tactics, operations and robust initiatives to attain efficiency and professionalism in the major operations nationwide where rule of law and human rights are strictly adhered.
General Olonisakin made this remark at the end of year 2015 conference with Principal Staff Officers of the Defence Headquarters. He affirmed his commitment to an indivisible Nigeria, stating that the military will continue to fight for the unity of the country. Maintaining that Nigeria remains one nation with one destiny, the CDS
said the Armed Forces are working round the clock in the fight against terrorism, illegal oil bunkering, cattle rustling and other forms of illegalities and crimes plaguing the country.
The Defence Chief used the occasion to advise Nigerians to be wary of the latest tactics of the terrorists to perpetuate their evils acts, especially in Mosques, Churches, market places, motor parks and other social gathering. General Olonisakin revealed that female bombers now get easy access to citizen's homes by requesting for water to perform ablution.
He warned the populace to be suspicious of such strange females asking for water for ablution or any other favours, maintaining that all those intrigues are calculated ploy to gain access to designated areas to detonate their bombs.
While thanking the security agencies for their discipline and resilience, the CDS urged them not to relent in their efforts but to maintain the momentum towards purging the nation of bad elements.
He also sought the cooperation of all well-meaning Nigerians in the fight against terrorism, adding that the war against insurgency is not for the military and other security agencies alone but for the generality of citizenry for a crime-free society as security is a collective responsibility.
General Olonisakin therefore commended the troops in the North East for their sacrifices to their fatherland, promising that their allowances, entitlements and other required logistics would not be denied them to boost their morale for more successes.