Sheikh Gumi Accuses El-zakzaky Of Running Parallel Government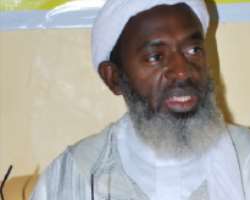 BEVERLY HILLS, December 30, (THEWILL) – Popular Islamic cleric based in Kaduna, Sheikh Ahmed Gumi has accused the leader of the Islamic Movement in Nigeria, popularly known as Shia, Ibraheem El-Zakzaky, of running a parallel government in the North.
Addressing reporters yesterday in Kaduna, Gumi said the Shi'ite members had been undergoing military training over the 40 years of its existence, stressing that the Islamic Movement in Nigeria were running a state within the State.
His words, "The Shiites have been embarking on military training and producing cadets and soldiers.
"The Islamic Movement of Nigeria does not recognise the corporate entity of Nigeria. The group is not registered.
"They operate above the law and they get direct foreign aid," he added.
Gumi said the late President Umaru Yar'ádua had told him of the massive importation of ammunition and weapons to different parts of the country, mentioning Iran as one of the major suppliers to the El-Zakzaky led Movement.
According to him, he had last year written a letter warning of the dangers of blocking highways by the Shi'ite sect, whose members travelled on foot from all over the country to Zaria.
He then added that Islam does not condone the blocking of roads which Shiites had made a practice, stressing that "It is an abomination in Islam."
The cleric noted that the bloody clash between the Soldiers and the Shi'ite members was divine intervention to prevent the re-occurrence of another Boko Haram.
"It came sudden and powerful enough to eradicate and uproot any plan that they must have been having to harm the society."
Gumi, who warned that the north would continue to be underdeveloped if Shi'ite and Boko Haram were not eradicated, said, "the strife and unnecessary blocking of roads and shouting of slogans on the way increases the tension in the north."