Fani-kayode Drums Up Support For Buhari's Anti-insurgency War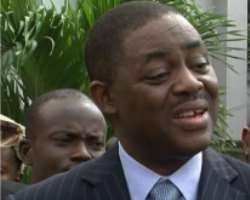 SAN FRANCISCO, December 30, (THEWILL) – Avowed critic of the President Muhammadu Buhari administration, Chief Femi Fani-Kayode, on Wednesday, drummed up support for the present administration in order for it to win the anti-insurgency campaign.
Fani-Kayode, who stated this during a Channels Television programme – Sunrise Daily, stressed that irrespective of their differences, it was imperative to seek collective efforts on the insurgency, warning that the fight against terrorism should not be politicised.
While denying being a member of the former administration, the PDP Presidential campaign spokesman during the last election said Jonathan led government did not divert money meant for arms purchase, explaining that the arms purchased were used to reclaim about 22 local governments captured by the insurgents.
The ex-Aviation minister, who insisted that the last administration fought Boko Haram insurgents to a standstill except for infiltrating the Sambisa forest, said, "I don't think it's helpful to continue blaming the government on challenges we are facing on the war front but it is important for us to come together to support the government in the fight against terror because we are all Nigerians regardless of what political party you are in.
"This is not the time to cast aspersions but time for everyone to join efforts to fight this war to ensure that we have a solid victory against Boko Haram."
He stressed that Jonathan administration had to purchase arms with cash as United Kingdom and United States governments refused to sell arms to the country, which frustrated the former president into buy weapons from the black market.
According to him, "The President came out few days ago that no arms were bought by the previous administration. This is a lie. It is not true. If no arms were bought, I wonder how the previous government could have recovered 22 local governments in few months. Arms were used, so to claim that no arms were used is untrue.
"They said the war against Boko Haram had been won. The war has not been won. People are being killed every day. They said the war has been won on 23rd December, 2015 but on 25th people were killed in Maiduguri, 27th people were killed in Borno, 28th people were killed in Adamawa."
Fani-Kayode however advised government to increase its efforts on the insurgents and endeavour to carry everyone along in the fight against terror.