THAI ARMY 'READY TO USE LIVE FIRE AGAINST RED-SHIRTS'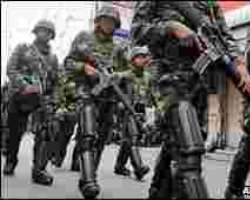 The Thai army has made explicit its determination to use live ammunition against "red-shirt" anti-government protesters in certain circumstances.
An army spokesman told a regular news briefing that troops were ready to use their weapons "decisively".
The red-shirts later called off plans to march on the city's Silom business district, saying they wanted to avoid confrontation with the army.
Troops moved into Silom on Monday, in an increasingly militarised standoff.
The BBC's Rachel Harvey says the army believes that some more militant members of the protest movement were preparing weapons such as sharpened bamboo sticks, acid and grenades.
"We can no longer use the soft to hard steps," spokesman Col Sansern Kaewkamnerd told reporters.
"We have to keep a distance between troops and demonstrators. If they try to break the line, we will start using tear gas, and if they do break the line, we need to use weapons to deal with them decisively." Both the government and the people want this to end quickly but we have to think about many factors
Thai PM Abhisit
The military had earlier outlined seven steps to be taken by security forces before any shooting would take place.
These included a show of force, the use of sound blasters and signal scramblers, followed by fire hoses and water cannon.
They then allowed for a possible shield charge, and a baton charge preceding any use of tear gas or pepper spray, culminating in the use of rubber bullets.
Col Sansern's latest comments compressed this process down to four steps, ending not in rubber bullets, but live ammunition.
March off
Some parts of the military have denied that troops used live ammunition in the failed attempt to clear protesters on 10 April, which left 25 people dead; other military officials have said live ammunition was used then.
Heavily armed soldiers dotted the business area on Monday
The standard military line has been that live ammunition is allowed either to shoot into the air or in self-defence.
Col Sansern's remarks appear to make explicit the message given visually when soldiers carrying live ammunition rounds were placed in the Silom business district on Monday.
He also said many details were involved in plans to try to clear the red-shirt protest camps from the centre of town.
The red-shirts, meanwhile, say they have no plan to move, or to march on the financial district.
"We will not be going to Silom today because the government has already deployed troops. When those troops are withdrawn, we will march to Silom," said Nattawut Saikua, a red-shirt leader.
He said the red-shirts would stay in their central Rajprasong location "indefinitely" and were tightening up their own security.
But he suggested they were open to negotiations to end the stand-off.
"Our group is always open to outsider suggestions. Whatever group who wants to propose a solution to the crisis, we're happy to hear those solutions," he said.
'No timeframe'
Thai Prime Minister Abhisit Vejjajiva addressed the nation on Monday night saying both that the protests could not be allowed to continue and that he was trying his best to end them but it was a difficult job.
COLOUR-CODED PROTESTS
Red-shirts
Formally called the United Front for Democracy Against Dictatorship (UDD)
Mostly poorer workers from rural areas
Many are loyal to ousted PM Thaksin Shinawatra
Believe Mr Abhisit came to power illegally and want him to resign and call elections
Yellow-shirts
Known as the Peoples' Alliance for Democracy
Loose coalition of mostly urban middle-class royalists and businessmen
United by their hatred of Mr Thaksin who was ousted in 2006
Occupied airports and official buildings in 2008, precipitating a political crisis
"Both the government and the people want this to end quickly but we have to think about many factors," he said.
"We have to minimise the damage and do this effectively.
"We cannot set a timeframe. The government knows that the people are suffering but authorities have many elements to consider. We will do our best."
The protests by the red-shirts, now in their sixth week, are aiming to force Mr Abhisit to step down and call an election.
On Sunday, leaders of Thailand's yellow-shirt movement, which supports the political establishment, gave the government a week to end the red-shirts' protests or warned they would hold their own demonstrations.
The Peoples' Alliance for Democracy (PAD), the formal umbrella for the yellow-shirts, had last week called for martial law.
The insecurity has cost tens of millions of dollars in lost business and trade.
Two luxury hotels in the red-shirt-occupied area said they were closing to guests.
"There isn't a guest left in our hotel now," a receptionist at the Holiday Inn told Reuters, but said they hoped to reopen on Monday.
On Friday, Mr Abhisit put the army commander-in-chief, Anupong Paojinda, in charge of national security
Despite calls from some hard-line parts of the establishment, Gen Anupong has advocated a political solution and said his troops were not planning further crackdowns.
The army plays a prominent role in Thai politics – former Prime Minister Thaksin Shinawatra was ousted by the military in 2006.