GOLDMAN SACHS PROFITS TOP $3BN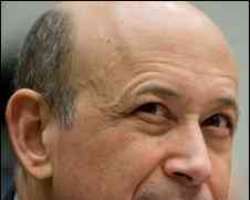 Goldmans boss Lloyd Blankfein thanked clients for their support
US bank Goldman Sachs has seen its profit for the first quarter of 2010 nearly double.
The bank reported net earnings of $3.46bn (£2.25bn) for the three months to March, up from $1.8bn a year ago.
Goldman also revealed that it paid its employees about $5.5bn in compensation, equivalent to 43% of its revenue.
Earlier, the UK's Financial Services Authority (FSA) announced a formal enforcement investigation into the bank regarding recent fraud allegations.
'Spectacular figures'
The results were ahead of Wall Street expectations, with revenue coming in at $12.8bn, up 36% on the year, and beating forecasts of $11bn.
The firm's net earnings were up 92% from a year earlier.
BBC business editor Robert Peston described the results as "another spectacular set of figures".
In light of recent events involving the firm, we appreciate the support of our clients and shareholders
Lloyd Blankfein, Goldman Sachs chief executive
Shares in the bank rose about 2% in the first few minutes of trading in New York, before falling $1.95 to $161.37.
Goldman's $5.5bn pay pot is spread across the bank's 33,100 employees, implying an average of $166,000 each.
However, the proportion of compensation to revenues was lower than a year ago, when the bank set aside 50% of revenues for remuneration.
Like other US investment banks that have already reported, Goldman's revenues were dominated by its debt trading business, accounting for 58% of the broker's total revenues.
"In light of recent events involving the firm, we appreciate the support of our clients and shareholders, and the dedication and commitment of our people," chief executive Lloyd Blankfein said in a statement.
UK inquiry
The FSA's earlier announcement followed claims made by the Securities and Exchange Commission (SEC) in the US that Goldman had defrauded investors during the sub-prime housing crisis.
The FSA's decision to investigate Goldman… is another embarrassment for the world's most successful hedge fund
Robert Peston, BBC business editor
Read Robert's blog
On Friday, the SEC issued civil charges against Goldman, alleging that it failed to disclose conflicts of interest during the marketing of sub-prime mortgages in which investors lost $1bn.
The SEC said Goldman failed to disclose "vital information" that one of its clients, Paulson & Co, had helped to choose which securities were packaged into the mortgage portfolio. These securities were sold to investors in 2007.
Goldman has strongly rejected the SEC's claims as wrong "in fact and law".
The FSA has said it will liaise closely with the SEC in its review. Goldman has said it will co-operate with the FSA.
It is unusual for the FSA to announce the beginning of a formal investigation. It is understood that the investigation process typically takes months, if not years.
The enforcement division of the FSA will now have powers to demand that Goldman provide it with documentation such as records of transactions and records of telephone calls.
If the watchdog finds Goldman at fault, it could impose a fine on the bank.
Lawsuit 'bandwagon'
Bruce Packard, banking analyst at Seymour Pierce, said: "It seems like it is just starting.
"I've always been slightly surprised that investors haven't gone after the investment banks in the way they did after the internet bubble."
On Sunday, Prime Minister Gordon Brown called for the FSA to launch an inquiry into Goldman Sachs.
"Hundreds of millions of pounds have been traded here and it looks as if people were misled about what happened," he said. "I want the Financial Services Authority to investigate it immediately."
In addition to the regulatory actions against Goldman, the German government and insurance company AIG have both said they are considering bringing private legal cases over money they lost on sub-prime debt that the firm sold to them.
"I expect everybody will jump on the bandwagon now," said Richard Bove, equity analyst at Rochdale Securities, who thinks that the cost to Goldman of defending lawsuits could be enormously expensive over the next few years.
Despite this, Goldman seems optimistic about defending these cases, saying it has set aside only $21m of cash to cover the cost of "litigation and regulatory proceedings".
In contrast, rival JP Morgan, who is concerned about possible lawsuits over mortgages it sold to the government agencies Freddie Mac and Fannie Mae, said it had provisioned $2.3bn in the first quarter.
'Incredibly arrogant'
However, Mr Bove says he doubted that the bad publicity would cause Goldman to lose any customers, because in his view, the Wall Street firm is simply too dominant.
"The services it provides in the trading sector are not easy to replicate," he says. "There is no other company that could jump up and take its place."
He added that the firm had "done a horrendously bad job over PR. They have come across as incredibly arrogant… [but] clients still do business with them."