Senate: Ekweremadu the best man to work with – Saraki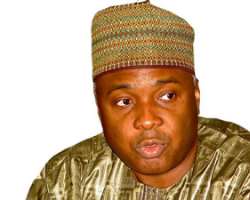 The President of the Senate, Bukola Saraki has described his Deputy, Senator Ike Ekweremadu, as a man every Nigerian politician should look forward to working with and the type of leader that Nigerians would want to continue to serve them.
Saraki, who stated this at a civic reception in Mpu, the country home of Ekweremadu shortly after a special thanksgiving service where Ekweremadu rededicated himself to service to Nigeria and mankind said the deputy senate president is a man who has the interest of the country at heart.
Speaking on behalf of the Senate, Saraki said although he had known Ekweremadu in the 7th Senate, he was not too close to him as to get acquainted with him the way he now knew him in the 8th Senate.
He said, 'For we politicians, it is always better for us to get close to know somebody because in our meets in the 7th Senate, me and him were far apart, but in this current Senate, I am the first person to tell a few people that Senator Ekweremadu is a perfect gentleman. You are a perfect gentleman and I repeat that many times and you are a good example for we politicians.
'He is the type of Nigerian that we will want to continue to serve because he only sees things for the good of Nigeria. I am grateful enough to be working with you and I will continue to assure you that we will continue to work closely for the interest of this great country'.
Sponsored Advert:
VACANCY! VACANCY!! VACANCY!!!
Job Position: Chief Accountant at an Agro-Allied Conglomerate in Delta State
Click here for details
Earlier, at the special thanksgiving service by his family, held at Mpu, in Aninri Local Government Area of Enugu State, Ekweremadu, while recalling his journey back to the Senate described his re-emergence as senator and deputy senate president as an act of God.
He specifically thanked God for sparing his life during the assassination attempt on him, even as he assured that he remained unperturbed, nevertheless.
He said, 'About two years ago, nobody would have believed that we will be here talking about Ike Ekweremadu being a Senator again, let alone being the Deputy President of the Senate. But, by the grace of God, I am today not only the Senator representing Enugu West, but also the Deputy President of the Senate.
'We went through very tumultuous primaries that almost divided our state along the line, but we thank God that today Enugu is united and peaceful.
After the elections, PDP lost control of the National Assembly and many people thought we were finished, but we went into political engineering and I want to thank my colleagues for that long night.
'We decided that when we got the chamber in the morning, we were going to perform wonders and when the time came for the inauguration of the Senate, I was re-elected Deputy President of the Senate. It was the will of God.
'In November, there was an attempt on my life, but God saved me. I am not scared and I want to reassure the people of Nigeria that we will continue to serve; we want to continue to deliver services without fear or favour'
Earlier in his sermon at the church service, the Archbishop of the Enugu Province, Anglican Communion, Dr. Emmanuel Chukwuma described Senator Ekweremadu as God-chosen leader.
He called on President Muhammadu Buhari and the nation's leaders to work together for the good of the common man irrespective of their different political persuasions, insisting that 'Ekweremadu is not a threat to anybody.'
He said 'I want to say to Mr. President, I want to say to the Senate President, there is no need to fear. Ekweremadu will neither say you are PDP nor that you are APC. He does not discriminate against any religion. He is not tribalistic. He is a perfect gentleman who has a heart to serve'.
The event was attended by many dignitaries, including serving and past governors, federal and state legislators, as well as members of the diplomatic community. - Leadership.